Jessica Paré Talks About Getting 'Mad Men' Role and Being Certain She'd Be Written Out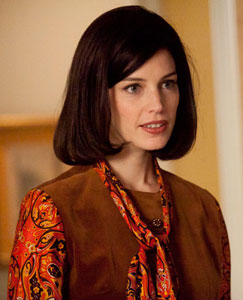 Since Don Draper goes through women like he goes through Lucky Strokes, Mad Men star Jessica Paré didn't expect to be on AMC's hit period drama for long (she had but one line in her first episode), but that didn't temper her excitement when she got the part of secretary Meagan in 2010.
"I remember I was so excited when I got it and they were like, 'Are you able to come to the table read tomorrow?' I was like, 'Yes! Of course! I can come to the table read! I have nothing else to do with my life! This is it,'" the 31-year-old actress recently told New York Magazine. "I waited up for the script to come that night and every hour passed excruciatingly slowly. I finally got the script and I had one line and it was, 'Yes, Joan.' You can picture me sitting there, like, quietly looking at, you know, Jon Hamm and John Slattery and Christina Hendricks and January Jones. I was freaking out."
Even those who work on the show, which centers around a fictional 1960s advertising agency, were sure Paré's clock was ticking the moment she walked on set. "When I had my first kissing scene with Don, the costumers were literally like, 'Well, it's been great working with you, you're on your way out. You know that, right?' she recalled. "When I got the part, I thought it was going to be maybe three, maybe five episodes; I didn't know what it was going to look like, but I was sure happy to have a job."
Paré also opened up about her early career, before she was instantly recognizable to TV fans as Hamm's Mad Men squeeze. "My parents made me finish high school before I started acting, and I did like two weeks of fine arts college before I was like, 'This sucks. I'm going!,'" remembered Paré, also touching on her brief nude appearance in 2010 comedy Hot Tub Time Machine. "My body is not a source of shame for me. I think tits can be funny."
http://www.dailyactor.com/wp-content/uploads/2015/01/watch-al-pacino-talks-the-humbli.jpg
Watch: Al Pacino Talks 'The Humbling' and His Extraordinary Career
In this conversation with Al Pacino talks about his role in The Humbling -- including working with Greta Gerwig -- and his historic acting career
http://www.dailyactor.com/2015/01/watch-al-pacino-extraordinary-career/
http://www.dailyactor.com/wp-content/uploads/2015/01/watch-oscar-nominee-steve-carell.jpg
Watch: Oscar Nominee Steve Carell Talks Improv, Auditioning for 'The Office' and 'Foxcatcher'
Carell talks about his entire career as an actor, including his background in improv, how he landed the Michael Scott role on The Office, and Foxcatcher
http://www.dailyactor.com/2015/01/oscar-nominee-steve-carell-improv-auditioning-for-the-office-foxcatcher/
http://www.dailyactor.com/wp-content/uploads/2015/01/ethan-hawke-ellar-coltrane-boyhood.jpg
Ethan Hawke Calls 'Boyhood' the "most special endeavor of my life"
Ethan Hawke is riding high with his fourth Oscar nomination for the Richard Linklater-directed Boyhood. In a recent "Ask Me Anything" on Reddit, the 44-year-old actor gave some thoughtful insight into his career and the 12-year creative endeavor that became the biggest film of the Oscar season. When asked what was the most difficult thing about […]
http://www.dailyactor.com/2015/01/ethan-hawke-boyhood-reddit-amaife/
http://www.dailyactor.com/wp-content/uploads/2015/01/martha-plimpton-a-delicate-balance.jpg
Martha Plimpton Takes a Refreshing Approach to a Long-Lasting Career
Martha Plimpton is an actress who enjoys the work, she's not in it for the fame. The proof is in her continually excellent work that she is doing on-screen and on the stage. She's currently starring in A Delicate Balance on Broadway. It's the audience who gives her the ultimate thrill. "I try to get […]
http://www.dailyactor.com/2015/01/martha-plimpton-long-lasting-career/
http://www.dailyactor.com/wp-content/uploads/2015/01/watch-michael-keaton-talks-candi.jpg
Watch: Michael Keaton Talks Candidly About His Career and His Approach to Acting in 'Birdman'
In this nearly 90 minute conversation, Michael Keaton is his usual affable self but is also remarkably candid about his career and his approach to acting.
http://www.dailyactor.com/2015/01/michael-keaton-career-approach-to-acting-birdman/