Jessica Paré Talks About Getting 'Mad Men' Role and Being Certain She'd Be Written Out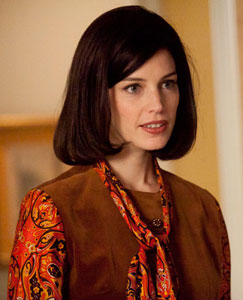 Since Don Draper goes through women like he goes through Lucky Strokes, Mad Men star Jessica Paré didn't expect to be on AMC's hit period drama for long (she had but one line in her first episode), but that didn't temper her excitement when she got the part of secretary Meagan in 2010.
"I remember I was so excited when I got it and they were like, 'Are you able to come to the table read tomorrow?' I was like, 'Yes! Of course! I can come to the table read! I have nothing else to do with my life! This is it,'" the 31-year-old actress recently told New York Magazine. "I waited up for the script to come that night and every hour passed excruciatingly slowly. I finally got the script and I had one line and it was, 'Yes, Joan.' You can picture me sitting there, like, quietly looking at, you know, Jon Hamm and John Slattery and Christina Hendricks and January Jones. I was freaking out."
Even those who work on the show, which centers around a fictional 1960s advertising agency, were sure Paré's clock was ticking the moment she walked on set. "When I had my first kissing scene with Don, the costumers were literally like, 'Well, it's been great working with you, you're on your way out. You know that, right?' she recalled. "When I got the part, I thought it was going to be maybe three, maybe five episodes; I didn't know what it was going to look like, but I was sure happy to have a job."
Paré also opened up about her early career, before she was instantly recognizable to TV fans as Hamm's Mad Men squeeze. "My parents made me finish high school before I started acting, and I did like two weeks of fine arts college before I was like, 'This sucks. I'm going!,'" remembered Paré, also touching on her brief nude appearance in 2010 comedy Hot Tub Time Machine. "My body is not a source of shame for me. I think tits can be funny."
http://www.dailyactor.com/wp-content/uploads/2015/02/Larry-David.jpg
Larry David on Who he Wanted to Star in his Broadway Play 'Fish in the Dark': "Anybody but me"
"It's one of the reasons I didn't like acting. I don't like not being able to interject" – Larry David on acting with a script Who doesn't like Larry David? Well, to be honest, Larry David probably doesn't like Larry David. In fact, David didn't even want to cast himself in the lead of […]
http://www.dailyactor.com/2015/02/larry-david-on-who-he-wanted-to-star-broadway-play-fish-in-the-dark/
http://www.dailyactor.com/wp-content/uploads/2015/02/Helen-Mirren-The-Queen.jpg
Helen Mirren on Winning an Oscar: "It's an indescribable moment"
"It's hard to say, because you don't know what would have happened if you hadn't won" - Helen Mirren When Asked If Winning an Oscar Changed Her Career
http://www.dailyactor.com/2015/02/helen-mirren-on-winning-an-oscar/
http://www.dailyactor.com/wp-content/uploads/2015/02/anna-chlumsky-james-earl-jones.jpg
Anna Chlumsky on Her Broadway Debut: "For me, it was an opportunity to go in the direction that I hadn't played in a while"
"I think my personality lends itself to ensembles" - Anna Chlumsky
http://www.dailyactor.com/2015/02/anna-chlumsky-broadway-debut-ensemble/
http://www.dailyactor.com/wp-content/uploads/2015/02/joanne-froggatt-downton-abbey.jpg
'Downton Abbey' Star Joanne Froggatt on Creating Her Own Backstory and How She's "Not a Big-Budget Hollywood Type"
"They want the model type, classically beautiful, and I'm not" - Joanne Froggatt on Working in Hollywood
http://www.dailyactor.com/2015/02/downton-abbey-star-joanne-froggatt-character-backstory-hollywood/
http://www.dailyactor.com/wp-content/uploads/2015/01/al-pacino-the-humbling.jpg
Al Pacino on Acting: "It becomes such a part of your nature you rarely ever think about quitting"
After working infrequently in film over the last decade, Al Pacino appears in several films released in 2015, including The Humbling, an indie drama directed by Barry Levinson.
http://www.dailyactor.com/2015/02/al-pacino-on-acting-it-becomes-such-a-part-of-your-nature/