Channing Tatum on 'Magic Mike' and His Stripper Past: "I really enjoyed the performing aspect of it, although being in a thong can be a humbling experience"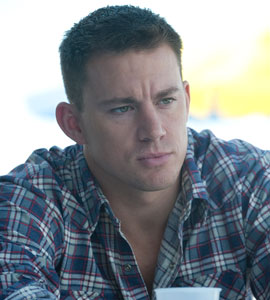 "I thought, 'Why not?'  I could dance.  It sounded like something I could do for fun for awhile."
No, that wasn't Channing Tatum's thought process before he decided to take a role in Step Up.  Actually, that was Tatum's thought process that an 18 year old Channing Tatum went through before he became a male stripper, an experience he is reliving in Magic Mike, which is directed by Steven Soderbergh.
The idea for the movie came out of a conversation that Tatum was having with Soderbergh.  He recalls, "I mentioned that I'd worked as a stripper for eight months when I was 18 and 19 years old.  I've always thought about doing a story about that life because whenever the subject comes up, guys always want to know about it.  How'd you get into it?  What was it like?  How much money did you make?  Steven said, 'You should do it.   Absolutely.  You should write it and I'll direct it.'"
Nevertheless, Tatum admits that though the movie relates to his previous employment the story is entirely fictional.  He explains, "It was the atmosphere and energy of it I wanted to capture, and that feeling of being at a time in your life when you're trying things out, and up for anything.  You might have a plan for the future, but for now it's about that next paycheck, that next party, and just having a good time. None of the characters are based on real people, not even my own. Everything that happens is fictional, and we did that purposely because we wanted the freedom to create our own scenarios and tell the best story."
Despite the often seedy and degrading way stripping is often portrayed on film, Tatum looks back at that time in his life as a mostly positive experience.  He recalls, "I'd show up for two hours and make $150, sometimes as much as $600 a week, all cash, which was a ton of money for me at the time. I really enjoyed the performing aspect of it, although being in a thong can be a humbling experience.  The more you try to look sexy the lamer it is, so you just have to commit to the comedy and the skit because that can be hilarious.   Strippers are some of the corniest guys you'll ever meet.  If it's a fireman skit, it has to be the corniest possible version of a fireman, but the women love it; they scream and laugh and stuff money into your underwear.   It was wild.  We thought we were rock stars."
Tatum looks at his character, the titular Magic Mike, and sees him as essentially an everyman in a thong.  He explains, "Everyone wants to be respected, everyone wants to be successful.  Mike has some ideas but he's been reluctant to take a chance on them because it's easier to stick with what he knows.  But does he want to do that for the rest of his life?  In the end, this is a simple story about someone trying to find his way.  It's also a window into a world that most people never see, and I hope audiences get into the spirit of it and have some fun."
Magic Mike opens in theaters on June 29.
Latest Videos
http://www.dailyactor.com/wp-content/uploads/2014/09/watch-david-mamet-in-the-1976-sh.jpg
Watch: David Mamet in the 1976 Short Documentary 'The Playwright Directs'
Though David Mamet is best known for his distinctive writing style in his scripts for the stage and screen, he has also directed theater and film. The 1976 short documentary titled The Playwright Directs depicts Mamet directing actors through several scenes at an almost frantic pace, dispensing pearls of wisdom throughout, like his thoughts on […]
http://www.dailyactor.com/2014/09/watch-david-mamet-1976-documentary-the-playwright-directs/
http://www.dailyactor.com/wp-content/uploads/2014/09/watch-marvels-agents-of-s-h-i-e.jpg
Watch: Marvel's Agents of S.H.I.E.L.D. Season 1 Bloopers
Forgetting lines? Corpsing? Delivering lines in Spanish? Unruly props? All in a day's work on the set of Marvel's Agents of S.H.I.E.L.D, apparently. Clark Gregg, Ming-Na Wen, and the rest of the cast find plenty of humor while playing super-serious secret agents in the Marvel Universe. While you're waiting for season 2 of the series […]
http://www.dailyactor.com/2014/09/watch-marvels-agents-of-s-h-i-e-l-d-season-1-bloopers/
http://www.dailyactor.com/wp-content/uploads/2014/09/audtion-tapes-robin-wright-and-h.jpg
Audition Tapes: Robin Wright and Haley Joel Osment Audition with Tom Hanks for 'Forrest Gump'
Check out Robin Wright auditioning for the role of Jenny from Forest Gump opposite Tom Hanks. Interestingly enough, Hanks doesn't quite have Gump's southern drawl down just yet while the other actors audition with him. In fact, Hanks would base Gump's voice on the voice of Michael Conner Humphreys, who played the young Forrest and […]
http://www.dailyactor.com/2014/09/audtion-tapes-robin-wright-haley-joel-osment-tom-hanks-forrest-gump/
http://www.dailyactor.com/wp-content/uploads/2014/08/bryan-cranston-emmy-award-speech.jpg
Watch: Bryan Cranston's Emmy Award Speech: "I love to act. It is a passion of mine and I will do it until my last breath."
The Emmy Awards weren't the most exciting awards show this year but with Bryan Cranston winning for Outstanding Actor in a Drama for Breaking Bad, we at least got to hear one heck of a fantastic acceptance speech. "I was a kid who always looked for the shortcut," he said. "I did happen to stumble […]
http://www.dailyactor.com/2014/08/watch-bryan-cranston-and-aaron-pauls-emmy-award-speeches/
http://www.dailyactor.com/wp-content/uploads/2014/08/audition-tapes-gerard-butler-aud.jpg
Audition Tapes: Gerard Butler Auditions for 'Dracula 2000′
Check out Gerard Butler auditioning for the role of Dracula in the movie, Dracula 2000. The film, about a group of thieves who break into a chamber expecting to find paintings, but instead find Dracula himself, also starred Christopher Plummer, Jonny Lee Miller and Nathan Fillion. Bulter has some sweet rock star hair, huh?
http://www.dailyactor.com/2014/08/audition-tapes-gerard-butler-dracula-2000/