Channing Tatum on 'Magic Mike' and His Stripper Past: "I really enjoyed the performing aspect of it, although being in a thong can be a humbling experience"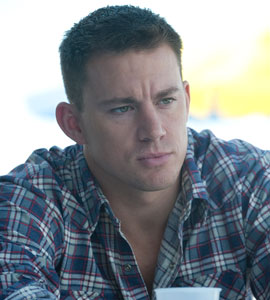 "I thought, 'Why not?'  I could dance.  It sounded like something I could do for fun for awhile."
No, that wasn't Channing Tatum's thought process before he decided to take a role in Step Up.  Actually, that was Tatum's thought process that an 18 year old Channing Tatum went through before he became a male stripper, an experience he is reliving in Magic Mike, which is directed by Steven Soderbergh.
The idea for the movie came out of a conversation that Tatum was having with Soderbergh.  He recalls, "I mentioned that I'd worked as a stripper for eight months when I was 18 and 19 years old.  I've always thought about doing a story about that life because whenever the subject comes up, guys always want to know about it.  How'd you get into it?  What was it like?  How much money did you make?  Steven said, 'You should do it.   Absolutely.  You should write it and I'll direct it.'"
Nevertheless, Tatum admits that though the movie relates to his previous employment the story is entirely fictional.  He explains, "It was the atmosphere and energy of it I wanted to capture, and that feeling of being at a time in your life when you're trying things out, and up for anything.  You might have a plan for the future, but for now it's about that next paycheck, that next party, and just having a good time. None of the characters are based on real people, not even my own. Everything that happens is fictional, and we did that purposely because we wanted the freedom to create our own scenarios and tell the best story."
Despite the often seedy and degrading way stripping is often portrayed on film, Tatum looks back at that time in his life as a mostly positive experience.  He recalls, "I'd show up for two hours and make $150, sometimes as much as $600 a week, all cash, which was a ton of money for me at the time. I really enjoyed the performing aspect of it, although being in a thong can be a humbling experience.  The more you try to look sexy the lamer it is, so you just have to commit to the comedy and the skit because that can be hilarious.   Strippers are some of the corniest guys you'll ever meet.  If it's a fireman skit, it has to be the corniest possible version of a fireman, but the women love it; they scream and laugh and stuff money into your underwear.   It was wild.  We thought we were rock stars."
Tatum looks at his character, the titular Magic Mike, and sees him as essentially an everyman in a thong.  He explains, "Everyone wants to be respected, everyone wants to be successful.  Mike has some ideas but he's been reluctant to take a chance on them because it's easier to stick with what he knows.  But does he want to do that for the rest of his life?  In the end, this is a simple story about someone trying to find his way.  It's also a window into a world that most people never see, and I hope audiences get into the spirit of it and have some fun."
Magic Mike opens in theaters on June 29.
Latest Videos
Watch: Benedict Cumberbatch Film the Smaug Motion Capture for 'The Hobbit: The Desolation of Smaug'
Though Peter Jackson's movie adaptations of The Hobbit haven't received the same critical acclaim as his films based on the book's sequel, The Lord of the Rings (turning a 300 page book into 9+ hours of film tends to do that), fans are still eagerly anticipating the release of the final part of The Hobbit […]
http://www.dailyactor.com/2014/11/watch-benedict-cumberbatch-film-smaug-motion-capture-the-hobbit/
Watch: Daniel Radcliffe on the Differences Between American and British Theater Audiences
Though moviegoers can see Daniel Radcliffe in the fantasy film Horns, which opens today, Broadway fans will have to wait a bit longer. Radcliffe is an unapologetic fan of Broadway — he has starred in Equus, How to Succeed in Business Without Really Trying, and The Cripple of Inishmaan — but he hasn't yet made […]
http://www.dailyactor.com/2014/10/daniel-radcliffe-differences-between-american-british-theater-audiences/
Watch: Anna Gunn, Jacki Weaver and Virginia Kull on 'Gracepoint' and Strong Female Roles on TV
The actresses also speak candidly about how they feel about their characters in the series and why its important for TV to feature series with strong female leads.Check out the conversation above!
http://www.dailyactor.com/2014/10/watch-anna-gunn-jacki-weaver-virginia-kull-gracepoint-strong-female-roles-on-tv/
Watch: Cristin Milioti Talks 'A to Z', 'Once' and 'How I Met Your Mother'
Few actresses have the kind of rise as Cristin Milioti has had in the last few years. A virtual unknown in 2011, she became a bona fide Broadway star in the 2012 hit Once, appeared in a supporting role in the 2013 film The Wolf of Wall Street, and was featured as the titular mother […]
http://www.dailyactor.com/2014/10/watch-cristin-milioti-a-to-z-once-how-i-met-your-mother/
http://www.dailyactor.com/wp-content/uploads/2014/10/watch-bryan-cranstons-acting-adv.jpg
Watch: Bryan Cranston's Acting Advice
With Breaking Bad: The Complete Series Barrel being released on Blu-ray with all kinds of goodies today, it gives us yet another opportunity to reflect on the series' star Bryan Cranston and all of the incredible advice he has offered actors in the wake of his success. In a video he filmed in 2013 for […]
http://www.dailyactor.com/2014/10/bryan-cranston-acting-advice-video/