'Mad Men's Bryan Batt Balances Acting and His Own Brick-and-Mortar Business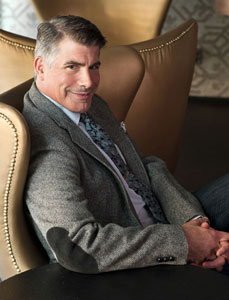 Mad Men actor Bryan Batt is a man with a plan. Known for his role as Salvatore Romano, an art director on AMC hit show, Business Insider recently caught up with Batt to talk about his backup plan, a New Orleans shop called Hazelnut. 
The forty-eight year old explained that when one of his roles didn't pan out he decided to take the plunge into the world of design, an interest that was previously something he did for fun. "I always wanted to be an actor, but I always loved design, and growing up in New Orleans there was such great style, great architecture.  I would decorate my little apartment in New York over and over again, because it only had a couple of rooms. And I did it for friends and family on the side just for fun." 
After "the funding fell through on a show that I was supposed to do in New York," Batt explained, he decided to branch out after putting all of his eggs in one basket.  He is now the owner of Hazelnut with his partner Tom Cianfichi.  A home accessories and gift shop, the actor spends a lot of time there when he's not in Los Angeles and New York. "Tom and I had always talked about opening up a home furnishings design store in New Orleans. When that [job fell through], I said 'Now. The window is open. Let's jump out and do it.'"  "It was the scariest thing, because all I had done was acting, and yet I think when you have a passion for something you have to try it," Batt shared. "Life is an 'and' proposition, not an 'or' proposition. I realized there was an entire world outside of show business." But things look to be working out for the performer as he pursues both his business and acting.  "When we opened the store I had a very vibrant Broadway career," he says. "Part of the deal was I would help open the shop and then, whenever I wanted to go off and do a show that was fine. So we've done that and it's worked out perfectly so far." The shop employs two full-time and three part-time employees.
"We're not rolling in it, but it's doing quite well," he laughs. "It looks like we're going to open up another location, about 30 miles outside of the city. We're working on that right now.  I come and go, so it's hard to balance an acting career and the business."  When he isn't on set he's working at his business giving fans a thrill, and a look at how normal he is. "['Mad Men' fans] can't believe I'm there.  I'm walking out with the garbage and they're like, 'Really? He's taking out the trash!'"
As for his role on Mad Men, Batt isn't sure what the future holds, or if his character will return to Sterling Copper Draper Pryce.  "I wish I could say yes or no, but all I've been told is that they don't kill the characters off," he says. "They said, 'You're not dead,' so that's really all I know."
Latest Videos
http://www.dailyactor.com/wp-content/uploads/2014/08/bryan-cranston-emmy-award-speech.jpg
Watch: Bryan Cranston's Emmy Award Speech: "I love to act. It is a passion of mine and I will do it until my last breath."
The Emmy Awards weren't the most exciting awards show this year but with Bryan Cranston winning for Outstanding Actor in a Drama for Breaking Bad, we at least got to hear one heck of a fantastic acceptance speech. "I was a kid who always looked for the shortcut," he said. "I did happen to stumble […]
http://www.dailyactor.com/2014/08/watch-bryan-cranston-and-aaron-pauls-emmy-award-speeches/
http://www.dailyactor.com/wp-content/uploads/2014/08/audition-tapes-gerard-butler-aud.jpg
Audition Tapes: Gerard Butler Auditions for 'Dracula 2000′
Check out Gerard Butler auditioning for the role of Dracula in the movie, Dracula 2000. The film, about a group of thieves who break into a chamber expecting to find paintings, but instead find Dracula himself, also starred Christopher Plummer, Jonny Lee Miller and Nathan Fillion. Bulter has some sweet rock star hair, huh?
http://www.dailyactor.com/2014/08/audition-tapes-gerard-butler-dracula-2000/
http://www.dailyactor.com/wp-content/uploads/2014/08/interview-matt-dillon-and-carla.jpg
Interview: Matt Dillon and Carla Gugino Talk 'Wayward Pines'
FOX has a new limited-series that's got a terrific cast and interesting premise. It's called Wayward Pines and stars Matt Dillon, Carla Gugino, Melissa Leo, Toby Jones, Terrance Howard, Juliette Lewis, Tim Griffin and Shannyn Sossamon. The show, whose pilot was directed by M. Night Shyamalan, is about a Secret Service agent (Dillon) goes to […]
http://www.dailyactor.com/2014/08/interview-matt-dillon-carla-gugino-wayward-pines-comic-con/
http://www.dailyactor.com/wp-content/uploads/2014/08/interview-wayward-pines-stars-ti.jpg
Interview: 'Wayward Pines' Stars Tim Griffin and Shannyn Sossamon on the Show, Their Characters and More!
Griffin and Sossamonwere at Comic-Con where they sat in on some roundtable interviews to talk about the show.
http://www.dailyactor.com/2014/08/interview-wayward-pines-stars-tim-griffin-shannyn-sossamon-comic-con/
http://www.dailyactor.com/wp-content/uploads/2014/08/interview-m-night-shyamalan-talk.jpg
Interview: M. Night Shyamalan Talks 'Wayward Pines' and Why He Expanded a Young Actors Role on the Show
I talked to Shyamalan at Comic-Con in a roundtable interview where he talked about the cast, what he learned from working in TV and how young actor Charlie Tahan started out with a small part but as the story grew, so did his role.
http://www.dailyactor.com/2014/08/interview-m-night-shyamalan-wayward-pines-comic-con/