'Mad Men's Bryan Batt Balances Acting and His Own Brick-and-Mortar Business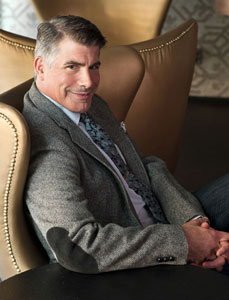 Mad Men actor Bryan Batt is a man with a plan. Known for his role as Salvatore Romano, an art director on AMC hit show, Business Insider recently caught up with Batt to talk about his backup plan, a New Orleans shop called Hazelnut. 
The forty-eight year old explained that when one of his roles didn't pan out he decided to take the plunge into the world of design, an interest that was previously something he did for fun. "I always wanted to be an actor, but I always loved design, and growing up in New Orleans there was such great style, great architecture.  I would decorate my little apartment in New York over and over again, because it only had a couple of rooms. And I did it for friends and family on the side just for fun." 
After "the funding fell through on a show that I was supposed to do in New York," Batt explained, he decided to branch out after putting all of his eggs in one basket.  He is now the owner of Hazelnut with his partner Tom Cianfichi.  A home accessories and gift shop, the actor spends a lot of time there when he's not in Los Angeles and New York. "Tom and I had always talked about opening up a home furnishings design store in New Orleans. When that [job fell through], I said 'Now. The window is open. Let's jump out and do it.'"  "It was the scariest thing, because all I had done was acting, and yet I think when you have a passion for something you have to try it," Batt shared. "Life is an 'and' proposition, not an 'or' proposition. I realized there was an entire world outside of show business." But things look to be working out for the performer as he pursues both his business and acting.  "When we opened the store I had a very vibrant Broadway career," he says. "Part of the deal was I would help open the shop and then, whenever I wanted to go off and do a show that was fine. So we've done that and it's worked out perfectly so far." The shop employs two full-time and three part-time employees.
"We're not rolling in it, but it's doing quite well," he laughs. "It looks like we're going to open up another location, about 30 miles outside of the city. We're working on that right now.  I come and go, so it's hard to balance an acting career and the business."  When he isn't on set he's working at his business giving fans a thrill, and a look at how normal he is. "['Mad Men' fans] can't believe I'm there.  I'm walking out with the garbage and they're like, 'Really? He's taking out the trash!'"
As for his role on Mad Men, Batt isn't sure what the future holds, or if his character will return to Sterling Copper Draper Pryce.  "I wish I could say yes or no, but all I've been told is that they don't kill the characters off," he says. "They said, 'You're not dead,' so that's really all I know."
Latest Videos
http://www.dailyactor.com/wp-content/uploads/2014/04/director-david-gordon-greene-nar.jpg
Director David Gordon Green Narrates a Scene From 'Joe'
Director David Gordon Green narrates a sequence from his new film, Joe, featuring Nicolas Cage and Tye Sheridan. In the video, he mentions his reasons why he likes to hire non-traditional actors. He likes people who have real skill-sets and not actors who have the skills on their resume. He also talked about this in […]
http://www.dailyactor.com/2014/04/director-david-gordon-green-narrates-a-scene-from-joe/
http://www.dailyactor.com/wp-content/uploads/2014/04/david-gordon-green-joe.jpg
Director David Gordon Green: "I find actors in unusual places"
I keep missing screenings of director David Gordon Greene's new film, Joe. I hear it's really good so I'm looking forward to catching it at some point. Joe stars Nicholas Cage as ex-con Joe Ransom, who isn't the greatest of role models until he meets a 15-year-old boy (Mud's Tye Sheridan). In this featurette, Green […]
http://www.dailyactor.com/2014/04/director-david-gordon-green-i-find-actors-in-unusual-places/
http://www.dailyactor.com/wp-content/uploads/2014/04/judy-greer-i-dont-know-why-you-know-me-from.jpg
Please Don't Say These Things To Judy Greer (video)
Judy Greer - who we love here at Daily Actor – has a new book called, I Don't Know What You Know Me From (Confessions of a Co-Star), a series of essays about her life as an actress, friend and someone who everyone thinks they might know. Here's a blurb about the book: "Want to […]
http://www.dailyactor.com/2014/04/please-dont-say-these-things-to-judy-greer-video/
http://www.dailyactor.com/wp-content/uploads/2014/04/Captain-America-SamuelNick-Fury.jpg
How Samuel L. Jackson Learns His Lines for the Marvel Movies (video)
Samuel L. Jackson stopped by Good Morning America earlier this week to talk about Captain America: The Winter Soldier – which is terrific, by the way – and he told Robin Roberts that for the first Cap film, he had trouble learning his lines. "I sat at home and I did all my studying, and […]
http://www.dailyactor.com/2014/04/how-samuel-l-jackson-learns-his-lines-for-the-marvel-movies-video/
http://www.dailyactor.com/wp-content/uploads/2014/04/andy-karl-margot-seibert-rocky.jpg
Andy Karl and Margo Seibert Talk 'Rocky: The Musical' on 'Today'
Andy Karl and Margo Seibert, the stars of Rocky: The Musical, talked to Today's Matt Lauer about the new Broadway musical. Karl talks about the final fight and taking on the iconic role. This is Seibert's Broadway debut and she's asked about her callbacks (9 in all!) and more. Check it out!
http://www.dailyactor.com/2014/04/andy-karl-and-margo-seibert-talk-rocky-the-musical-on-today/