Jeremy Irvine's 1st Role Was Playing a Tree on Stage. His 2nd was a Starring Role in 'War Horse'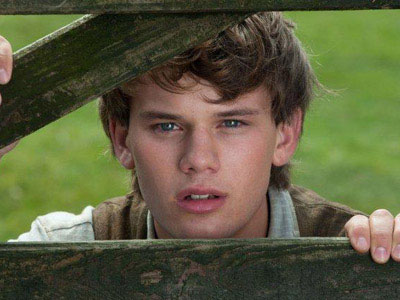 You'd think that for someone whose screen credits didn't extend beyond bit parts on the Disney Channel and who had recently played a tree on stage, a simple "You got the role!" would've sufficed, but for young British actor Jeremy Irvine, Steven Spielberg informed him he'd been cast in upcoming drama War Horse in a more creative fashion.
"Read this to camera, but don't turn it over until we say 'Action,'" Irvine was told at a callback for the role of Albert, a farm boy who tries to keep his horse alive during World War I. "Mr. Spielberg likes it to be spontaneous."
"Joey! Joey! Steven Spielberg wants me to play Albert in the feature film War Horse," read Irvine, who was just 20 when he was cast in the summer of 2010, before realizing the meaning of the words he'd just spoken.  "It was a nice way to find out," the British actor and drama school dropout said. "The whole thing isn't real to me yet. I'm still trying to take it in. I came from having no lines in the theatre to this."
When he says "no lines," he means he had zero lines. Prior to landing War Horse, which opens in the U.S. on Christmas Day and in January in the U.K., he portrayed a tree in the Royal Shakespeare Company's production of Dunsinane.
"My friends all took the mick out of me for that one, saying 'You're gonna be the tree'," recalled Irvine, who also had a bit part on Disney's Life Bites series. "And in my first scene, there I was waving two branches. I was in the chorus and had no lines."
Latest Videos
http://www.dailyactor.com/wp-content/uploads/2014/07/bill-hader.jpg
Bill Hader: "I kind of fell into acting" (video)
Bill Hader, starring in the soon to be released The Skeleton Twins, talks about the film and how he fell into acting and then got "crazy lucky" in this quick video from USA Today. Share on Tumblr
http://www.dailyactor.com/2014/07/bill-hader-fell-into-acting-video/
http://www.dailyactor.com/wp-content/uploads/2014/07/director-john-carney-narrates-a.jpg
Director John Carney Narrates a Scene from 'Begin Again' Starring Kiera Knightley and Mark Ruffalo
Director John Carney (Once) narrates a scene from his new film, Begin Again. Starring Keira Knightley and Mark Ruffalo, the scene shows the first time the two characters meet. I haven't seen it yet but I've heard it's great.
http://www.dailyactor.com/2014/07/begin-again-scene-director-john-carney-keira-knightley-mark-ruffalo/
http://www.dailyactor.com/wp-content/uploads/2014/07/holler-if-you-hear-me-gma.jpg
Watch the Cast of Broadway's 'Holler If You Hear Me' Perform 'California Love' on GMA
The cast of Broadway's newest musical, Holler If You Hear Me with music from Tupac Shakur, performed on Good Morning America this morning. Singing 'California Love', the cast (including the teriffic Christopher Jackson – read our interview here), show why they're the most energetic and inspiring group of actors on Broadway. Holler If Ya Hear [...]
http://www.dailyactor.com/2014/07/watch-cast-broadways-holler-hear-perform-california-love-gma/
http://www.dailyactor.com/wp-content/uploads/2014/07/behind-the-scenes-of-dawn-of-the.jpg
Behind the Scenes of 'Dawn of the Planet of the Apes' with Performance Capture Actor Terry Notary
Actor Terry Notary is 1 of 5 actors playing the apes in the new Dawn of the Planet of the Apes. "When you see armies of apes," he says, that's "five of us." Check out the video where you can watch his performance capture work.
http://www.dailyactor.com/2014/07/dawn-planet-apes-performance-capture-actor-terry-notary/
http://www.dailyactor.com/wp-content/uploads/2014/07/melissa-mccarthy-daily-show.jpg
Melissa McCarthy and John Stewart Talk About Terrible Commercial Auditions on 'The Daily Show'
Melissa McCarthy stopped by The Daily Show last week to plug about her new movie, Tammy. She talked about how she loved working with her husband, Ben Falcone (director of Tammy) and then segued into talking about some horrible working situations. The always hilarious McCarthy then started to tell host John Stewart about a particular [...]
http://www.dailyactor.com/2014/07/melissa-mccarthy-john-stewart-commercial-auditions-the-daily-show/