Q & A: Justified's Timothy Olyphant: "I'm not looking for answers when I show up to the set. I'm just… asking questions over and over"
Podcast: Play in new window | Download (Duration: 18:15 — 12.6MB)
I think Timothy Olyphant is immensely watchable in anything he does.
He can take the most under-written character and turn it into something unique. And he can take a terrific character and make that even better. Deadwood, Damages, Live Free or Die Hard and now, Justified are just some of the examples I'm talking about.
As 'US Marshal Raylan Givens' in Justified, he told me he can't take full credit for his great work. He just say's the words and tries to bring the character to life, he said.
I talked to him in a conference call about his work on the show, what his producing credit means and how some actors kind of stink – those are my words not his!
Justified airs on Wednesdays at 10pm on FX
For the full interview, click the audio link above or download from iTunes
You've decided to take a departure from your past work on film to shoot this television show and it really has a feel of a film. How do you enjoy building character over the time in television versus building a character for a short film in that capacity?
Timothy Olyphant: Well, the fun of it is in a film you more or less know the beginning, middle, or an end and you might have some wiggle room in there, but this really is a journey, you know, and I've been very fortunate to be kind of allowed in on a part of that process. So, that is one of the real challenge here for me that I've really enjoyed, which is – you know, it's – I don't think of it as building a character. I just think of it, you know, we're just telling a story and I don't know how it's going to end, and that's kind of the fun of it.
But for me, you know, at the end of the day this – it – the same things apply. You know, I'm still trying to scene to scene figure out what it is I'm doing and basic rules still apply. And you're just – I think, you know, the tremendous upside here is that it's such a great character, and it's really tough to get your hands on a great character.
What have you learned about Raylan from filming this recent season?
Timothy Olyphant: What have I learned about Raylan from the second season? He's not any taller than he used to be. I'm not sure. You know, I'm terrible at that. I've got to be honest with you, I'm just trying to figure out what to do next, but he seems like he's got a — as usual — he's got a lot problems.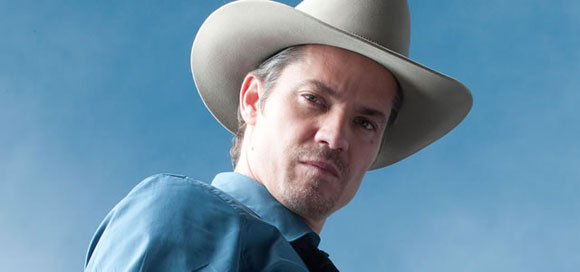 What keeps challenging you about playing him?
Timothy Olyphant: Well, you know, it's really more about – the character is just a joy to play. It's more just about the beast of – you know, of television production and just trying to keep your head above water and, you know, stay in front of it, and just remember how much fun it is.
Were there actors from early westerns or cop shows that influenced your take on Raylan?
Timothy Olyphant: No, I really didn't look past the – you know, the books. After that, I tend to draw inspiration from whatever just kind of floats my boat for the moment. But, I really spend a lot of time with the source material and I read those books constantly, and spent time with Elmore. And then, it was conversations with Graham, you know? And it was some conversations with U.S. Marshals; things like that.
I know you picked up a producer credit for this season, so what made you want to get involved on that level, and how much behind the scenes are you involved?
Timothy Olyphant: Well, last year I just pretended to be a producer and I rather enjoyed it, so I thought, might as well get the credit. It was – it's really one of the great joys of the job and one of the real challenges of the job is, you know, kind of being a part of the whole thing.
You've made Raylan Givens probably one of the most interesting and dynamic characters in TV right now. How does it feel basically to get to play a modern day cowboy every week?
Timothy Olyphant: Thank you. I'm not – very kind words. I can't take full credit for it. I'm really just, you know, saying the words and trying to kind of bring it to life.
It's all cowboys and Indians when it comes down to it. You know, it's kind of the fun of the job, it's child's play, and I get a great deal of fulfillment out it. It just so happens every now and then you actually put on an actual cowboy hat and it kind of brings it all home, but you know this one's fun. You know, it's always fun to – you know, cops and robbers and in this case it's kind of more like cops and hillbillies, and this one's a blast.
You know, the tone of the show, the tone – you know, Elmore's cool, you know, and Elmore's funny. And it's a kick to be able to play what, I guess they call a drama, but day in and day out I think we're making a comedy, so it's a lot of fun.
One of my favorite things about the show is the Boyd/Raylan relationship, and I was wondering if you could talk about how that's changing this season, and what it's like working with Walton?
Timothy Olyphant: Well, Walt's fantastic, you know? I mean, Walt's just – anytime he's on the call sheet I know it's going to be an easy day for me, because I just sit back and let him do all the work, you know? When you've got someone who's going to take the take, moment to moment, keep you on your toes, it just – you know, I remember years ago your acting – my acting teachers saying, "Just work off the other person." Well, when you've got someone like Walt it makes it real easy to do it.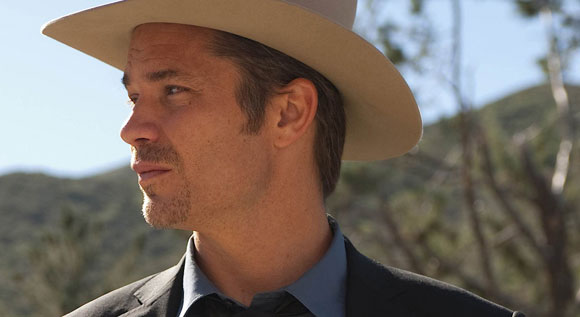 Every character that you play, whether in this show or film, it's just seems completely unique and you're always one of the most interesting to people to watch on screen. Is that…
Timothy Olyphant: Well, so far I love your question. I don't know where it's leading, but so far I don't think that anyone should be complaining.
All right, good. Now, is that because of your choices as an actor or is it the quality of scripts that you get offered, or both?
Timothy Olyphant: Now, that's just a setup. It started with such a nice compliment, and then you want – then the question is, should I deserve all the credit for what you said is consistently great work, or should we give credit to writers? That's really what it comes down to you asking, right?
No, there's some – there's actors out there who completely stink, you know?
Timothy Olyphant: (Laughing) That's – yes, I imagine that's true. Sure. I mean, you know, some people just aren't trying. You know, I don't know, I've been really lucky. I feel like, especially the last two years – first of all, I've been lucky. I've been working for a long time and I've just really been allowed to work, and with very little of the baggage and the pressures that can come with my job.
I've just been able to year after year for quite some time now, you know, get to the set and be in a film and not have – and just be allowed to keep doing it and get – and just get better. Just kind of, you know – you know you do it for 10, 12, however many years I've been doing it, if it (weren't) – you know, if you're not good by now then I think that's going to be about it.
But, I've been allowed to, you know, go to work and the last couple of years I feel like a combination of two things. One, I've really kind of realized how much I enjoy the job. And at this point in my life I kind of show up to work with a real interest and a real commitment, and I guess a level of confidence in terms of asking myself, you know, I'm not looking for answers when I show up to the set. I'm just asking the questions, you know, asking questions over and over.
And I think I've been given some great material. I mean, in the last couple years I did a small movie, High Life that went to the Berlin Film Festival. I did Perfect Getaways, The Crazies, this, the TV work I've been able to do, stuff like with those guys in Damages. They've been great roles. They've just been really great roles and I've been able to have a dialogue, a meaningful dialogue and collaboration with the film makers on each one of those projects.
And each time it's led to, you know, work that I'm really pleased and proud of.
Latest Videos
http://www.dailyactor.com/wp-content/uploads/2014/04/director-david-gordon-greene-nar.jpg
Director David Gordon Green Narrates a Scene From 'Joe'
Director David Gordon Green narrates a sequence from his new film, Joe, featuring Nicolas Cage and Tye Sheridan. In the video, he mentions his reasons why he likes to hire non-traditional actors. He likes people who have real skill-sets and not actors who have the skills on their resume. He also talked about this in […]
http://www.dailyactor.com/2014/04/director-david-gordon-green-narrates-a-scene-from-joe/
http://www.dailyactor.com/wp-content/uploads/2014/04/david-gordon-green-joe.jpg
Director David Gordon Green: "I find actors in unusual places"
I keep missing screenings of director David Gordon Greene's new film, Joe. I hear it's really good so I'm looking forward to catching it at some point. Joe stars Nicholas Cage as ex-con Joe Ransom, who isn't the greatest of role models until he meets a 15-year-old boy (Mud's Tye Sheridan). In this featurette, Green […]
http://www.dailyactor.com/2014/04/director-david-gordon-green-i-find-actors-in-unusual-places/
http://www.dailyactor.com/wp-content/uploads/2014/04/judy-greer-i-dont-know-why-you-know-me-from.jpg
Please Don't Say These Things To Judy Greer (video)
Judy Greer - who we love here at Daily Actor – has a new book called, I Don't Know What You Know Me From (Confessions of a Co-Star), a series of essays about her life as an actress, friend and someone who everyone thinks they might know. Here's a blurb about the book: "Want to […]
http://www.dailyactor.com/2014/04/please-dont-say-these-things-to-judy-greer-video/
http://www.dailyactor.com/wp-content/uploads/2014/04/Captain-America-SamuelNick-Fury.jpg
How Samuel L. Jackson Learns His Lines for the Marvel Movies (video)
Samuel L. Jackson stopped by Good Morning America earlier this week to talk about Captain America: The Winter Soldier – which is terrific, by the way – and he told Robin Roberts that for the first Cap film, he had trouble learning his lines. "I sat at home and I did all my studying, and […]
http://www.dailyactor.com/2014/04/how-samuel-l-jackson-learns-his-lines-for-the-marvel-movies-video/
http://www.dailyactor.com/wp-content/uploads/2014/04/andy-karl-margot-seibert-rocky.jpg
Andy Karl and Margo Seibert Talk 'Rocky: The Musical' on 'Today'
Andy Karl and Margo Seibert, the stars of Rocky: The Musical, talked to Today's Matt Lauer about the new Broadway musical. Karl talks about the final fight and taking on the iconic role. This is Seibert's Broadway debut and she's asked about her callbacks (9 in all!) and more. Check it out!
http://www.dailyactor.com/2014/04/andy-karl-and-margo-seibert-talk-rocky-the-musical-on-today/