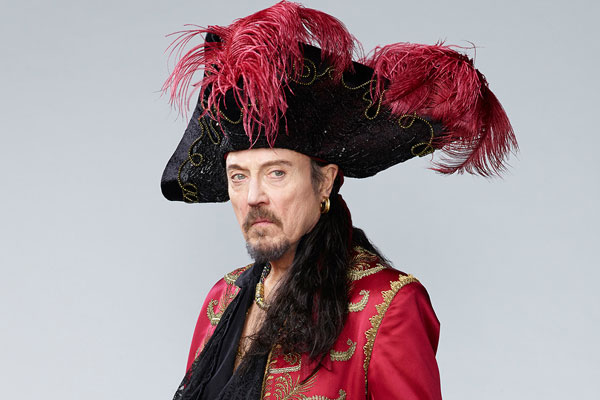 We all know Christopher Walken loves to dance and that he has a tendency to play bad guys. But he'll have to use both of those skills when he stars as Captain Hook on NBC's Thursday night event broadcast, Peter Pan Live. The always-entertaining Walken spoke to The Hollywood Reporter about his live gig, why he feels some sympathy for Captain Hook, and why Peter Pan Live is more like being on a football field than a film set.
Walken points out that while he often plays villains, he would like to have the chance to play the good guy now and then. He says, "I don't know how [I got typecast to play so many villains] but I think it's like anything else, in the movies in particular, if you establish yourself as something and you're lucky enough to keep getting hired. I would love to play, it would be interesting … [something]like, Father Knows Best. I'd love to play a part like that — nobody asks me!"

Of course, if he doesn't get hired to play the good guy he can at least find the good guy in all of his characters. Walken has found a soft spot even within Captain Hook. He reveals, "There's something about him that's sort of sweet. Peter Pan chopped his hand off and fed it to a crocodile, and now he's got a crocodile following him, and he wants vengeance; his pirates just keep saying to him, 'Look, you've got all this money, you've done everything, why don't you just take it easy?' And he says, 'I can't, I have to settle a score.' So there's something a little bit sad about him. It's almost a little bit like, 'Poor old Hook.'"
Being a New York City native, Walken has had an extensive background in live theater, including musicals (he was even nominated for the Best Actor in a Musical Tony for his role in the 2000 musical James Joyce's The Dead). However, Walken admits that Peter Pan Live is different than anything he's ever done before — and uses a funny anecdote about fellow oddball actor Jeff Goldblum to illustrate it. He explains, "Doing it this way, getting ready and then having one moment, it's really more like sports than theater. It's like a football game or something — you get ready, and then you go play. This is different — we've got the whole cast around. … Sometimes you don't meet the other people in a movie. I was in five movies with Jeff Goldblum before I met him! I met him at a stoplight in Los Angeles!"
Though Walken seems to have miscounted — I only remember him and Goldblum together in Annie Hall, The Sentinel, and Man of the Year — the point still stands.