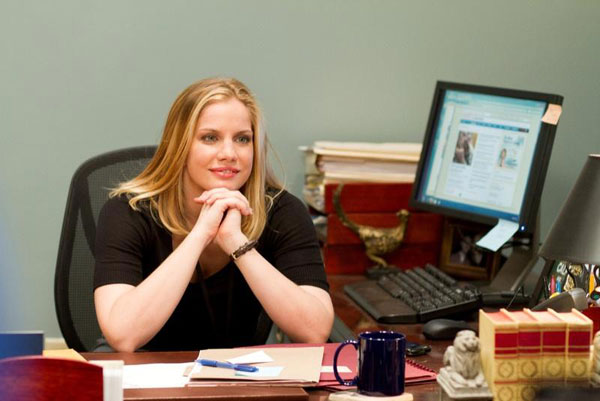 Veep actress Anna Chlumsky is using her time off from filming the popular HBO series by making her debut in the Broadway revival of You Can't Take It With You. She has taken over the role of Alice Sycamore, the only member of the family who appears to have her head screwed on right. Chlumsky took over the role from Rose Byrne on January 6, and shortly afterward she spoke to Entertainment Weekly about how her performance resembles Byrne's and why playing Alice is more difficult than it seems.
Though Chlumsky saw Byrne perform the role, she admits that she hasn't tried to copy Byrne's performance. She explains, "Rose and I are very very different, and she's wonderful and I love what she's done with Alice. But it would be insane for me to try to do exactly what she's done because we're just very different. The beginning of any rehearsal you're really spongey, you're really just open to anything. So I've had to balance how open I am with also making sure that I'm making my own choices and staying true to how I'm playing her as opposed to mimic anything that Rose has done. It would be funky if I was just mimicking."
Chlumsky also spoke about her discussions with director Scott Ellis about why playing a straight character like Alice against her zany family members isn't as easy as it looks. She says, "When Scott and I met at first he was like, 'don't be fooled, this is not simple.' He's so right. I'm the type of actor who will do my own backstory for fun, but it's not required usually. You can just play a scene knowing enough about a character to play a scene. But, in the case of Alice, because this is about family, you really do have to go back in your mind from birth and think about how she was raised."
You Can't Take It With You runs at the Longacre Theatre through February 22.