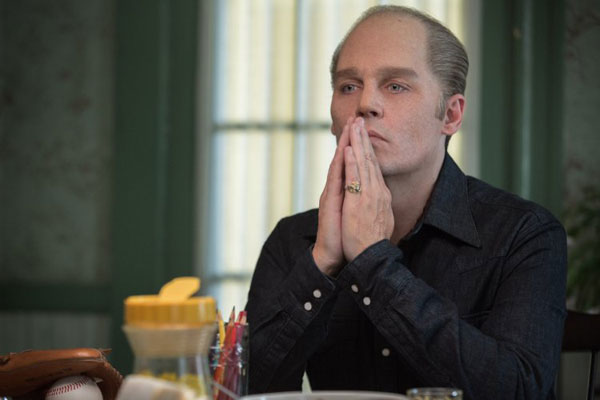 Box office analysts have long questioned Johnny Depp's ability to headline a blockbuster that isn't a Pirates of the Caribbean movie or directed by Tim Burton. Now they have proof: Forbes has named Depp as the most overpaid actor on its 2015 list — and it is by a significant margin. Forbes' data looked at the last three live-action movies each actor starred in over the three years prior to June 1, 2015 and compared what each actor's movies made at the box office versus what they were paid.
Unfortunately for Depp, that period covers two of his biggest box office failures. Both Mortdecai and Transcendence were major box office bombs. His luck more recently has almost been just as bad: even though Black Mass was released after the time period looked at by Forbes, it still barely became profitable. Forbes estimates that for every dollar Depp was paid, he returned a paltry $1.20.
The second actor on the list can at least take solace in the fact that while his returns are low they are more than $5 greater than Depp's. While Denzel Washington had hits with The Equalizer, 2 Guns, and Flight, but his paychecks were so high that it skewed the numbers. He returned $6.50 per ever dollar paid.
Will Ferrell frequently lands on these lists (he was #1 in 2010 and 2009), and this year he lands at #3. Like Washington, Ferrell's movies usually make money — but he gets paid a lot for them. Anchorman 2 and Get Hard both turned a profit, but The Campaign did not (though Ferrell appeared in The Lego Movie, the Forbes listings do not take animated films into account). Ferrell returned $6.89 for every $1 he was paid.
Curiously, a name who has recently appeared at the top spot on this annual list has gone missing this year — Adam Sandler. After being one of the most successful box office attractions of the late 1990s and early 2000s, Sandler's output since 2011 has been full of duds. However, because of Sandler's deal with Netflix his box office clout is no longer measurable. Furthermore, Sandler's most recent live-action theatrical release, Pixels, was a hit overseas.
No actresses made the list this year. The rest of the top ten, including how much they "return" in box office per dollar paid:
4) Liam Neeson ($7.20)
5) Will Smith ($8.60)
6) Christian Bale ($9.20)
7) Channing Tatum ($10.80)
8) Brad Pitt ($12.00)
9) Ben Affleck ($12.30)
10) Tom Cruise ($13.60)