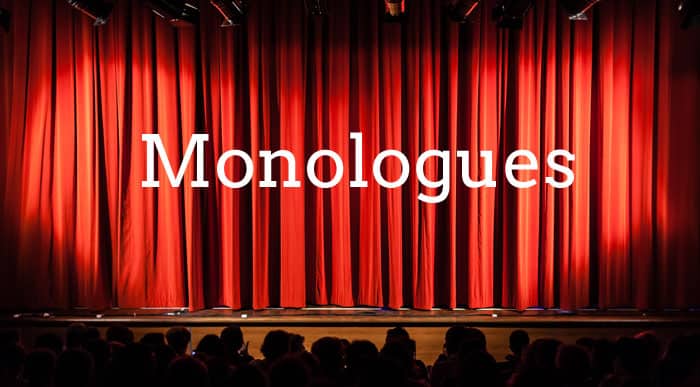 If you're like most actors, then it's probably safe to say you've done the 'crazy audition scramble' to find that perfect audition monologue. You desperately start searching the internet and find a handful, but not one that really fits you.
The monologue, a (hopefully not too long) speech delivered by a character in a play, film, or TV show, serves as a tool for actors to showcase their skills for agents, casting directors and at some point, an audience.
Well, we're here to help! We have a huge database that'll help you find one that is perfect for you!
Tips on Finding Monologues for Auditions:
Choose the Type of Monologue That Suits Your Character Type: Consider your age, gender, and the type of characters you excel at portraying. It also should align with your strengths as an actor and allow you to fully embody the character you are portraying.
Keep It Short: In audition settings, time is often limited, and you'll often be asked to keep it perform a one or two-minute piece. Keeping it short ensures that you can effectively convey that character and engage the people behind the desks from beginning to end.
Have a Clear Objective: A compelling monologue should depict a character actively pursuing an objective. Choose a piece where the character wants something from another character, creating a sense of tension and immediacy. This will add more depth to your performance.
Try and Choose One with an Arc: A well-crafted monologue should have a structure that has a clear beginning, middle, and end. It should tell a story and allow you to showcase your versatility as an actor.
Bring the Funny: While audition monologues can be dramatic or serious, incorporating humor can be used to your advantage. Look for something that has some comedic elements, even with one that might have a serious context. Humor has the ability to lighten the mood.
Always Read the Play or Script, if Available: If you can, take the time to read the entire play or script from where the monologue is taken. You'll get a deeper understanding of the character's motivations, relationships, and context of the story.
Find Your Monologue Below
Latest Contemporary Monologues