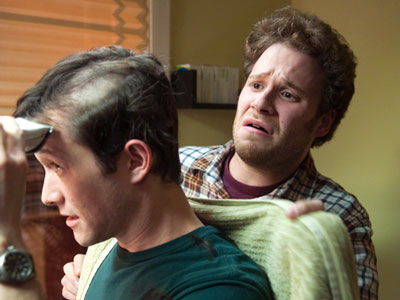 Seth Rogen and writer/producer Will Reiser are, if you didn't know, two real-life friends and collaborators on the humorous, but sad film that loosely follows the days after Reiser's diagnosis with cancer.
50/50, was directed by Jonathan Levine and stars Joseph Gordon Levitt, who only "had one week to prepare", for his portrayal of Will. 
"We didn't have anyone in mind when writing. It was kinda just like Will," Rogen explained, but after what the two says was a very short discussion about Will himself playing the role", ultimately the long time friends decided to go with someone else. "It would have been a horrible idea," Reiser shared, while Rogan also agreed, "a very bad idea." 
Originally "James McAvoy was going to do it, but he had to leave because of a family emergency, and then I had known Joe [Levitt]. We thought he could be incredible, and he seemed really excited about it. He actually jumped into the role with very little prep time. It was incredibly impressive to watch. As an actor, I have to say, it's the type of role a lot of people would want to work on for months and do research. He literally, within a matter of days, became this character. It was kind of miraculous."   Read more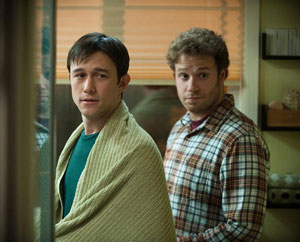 I haven't seen this yet, but from everyone I've talked to who's seen it, 50/50 is going to make you cry. Or at the very least, make you form mysterious water droplets from your eyes. If that happens and you want to look cool, just do what I do and say you were yawning. Works every time.
Starring Joseph Gordon-Levitt, Seth Rogen, Anna Kendrick, Bryce Dallas Howard and Anjelica Huston, the film is inspired by the friendship of Rogan and screenwriter Will Reiser. 
Take a look at the clips and if you see me in the theater with misty eyes, I was just yawning.
It comes out September 30th.