Podcast: Play in new window | Download (Duration: 9:55 — 6.9MB)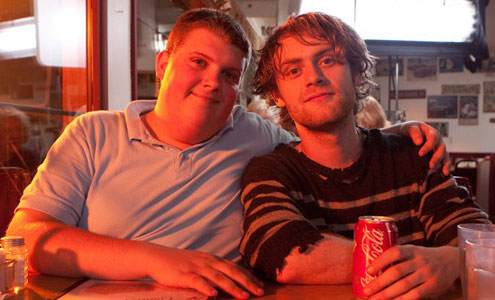 Matt O'Leary and Jacob Wysocki star in SXSW Festival favorite, Fat Kid Rules the World.
The actors had different films at last years festival, with Jacob starring in Terri while Matt was in the Grand Jury winning Natural Selection. Having seen both films and really liking their work in each one, I was really looking forward to watching Fat Kid.
The film is actor Matthew Lillard's directorial debut and it's a charming film that I liked a lot. It that will absolutely make you look forward to his next project.
In the film, Jacob plays Troy Billings, a suicidal, overweight 17 year-old. Right as he's about to hurl himself in from of an on-coming bus, Marcus, a street musician, (O'Leary) dives in to save him. The two become quick friends when Marcus asks Troy to become the drummer his punk rock band. It doesn't matter that Troy can't play the drums because that one act of kindness is all Troy needs.
I talked to Jacob and Matt at this years SXSW Festival about acting, working with Matthew and how the two lived together during the shoot.
Oh, and if you listen to the audio podcast, you'll hear the other star of the film, Billy Campbell and his thoughts on Twitter and Facebook. Check it out if you have the time!
Follow Jacob and Billy on Twitter! Read more
Podcast: Play in new window | Download (Duration: 13:12 — 9.1MB)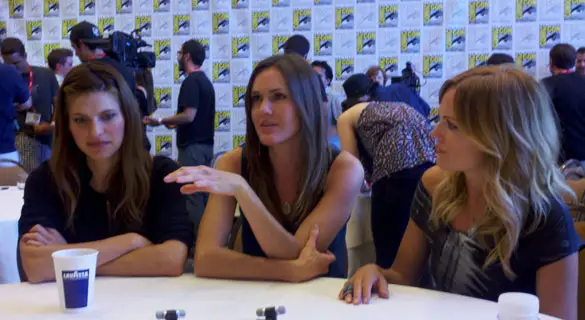 Here's the last of the Children's Hospital interviews I did at this year's Comic-Con.
I talked with Malin Akerman, Lake Bell and Erinn Hayes and I kept this my last because it was incredibly hard to transcribe! The back and forth banter was quick, funny and writing it down just didn't capture the spontaneity of the interview.
I'd listen to the audio portion if you want to get the full feel of the interview. There was a lot of things I couldn't include here because most of it would look ridiculous in print.
From talking about having each other's children, their outrage at Rob Corddry for not inviting them to go to Brazil to film a 10-second-scene and having their characters die and come back to life, the conversation was definitely a highlight.
Children's Hospital airs on Adult Swim at midnight on Thursdays. 

For the full interview, click onto the audio link above or download from iTunes.
Children's Hospital is not the kind of show where you go, "What is my arc?"
Lake Bell: None, there's no logic.
Is that a challenge as an actor or is it more freeing?
Erinn Hayes: It was awesome.  All you have to do is show up and be like, "what am I going to do today?"  You don't have to think about it or like do a whole lot of prep other than, like, what's going to make this the funniest for this particular episode.  Read more
Podcast: Play in new window | Download (Duration: 28:41 — 19.8MB)
Have you been watching The Event on NBC? It stars Blair Underwood, Jason Ritter and Bill Smitrovich and Hal Holbrook.
Bill's an incredible character actor who's been in dozens of movies and has been a series regular on over 7 shows, including The Event. On the show, he plays 'Vice President Jarvis', who's character is beginning about to have a major part in the story.
Hal Holbrook… well, he's Hal Holbrook. In the show, he plays Dempsey, "a businessman with shadowy intentions."
These guys have both been in the business a long time and listening to them talk was a true treat.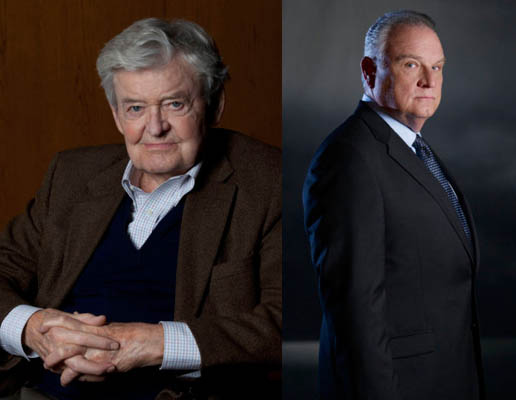 I got a chance to talk to them in a media conference call where they talked about the show and the life of an actor. And as a bonus, Mr. Holbrook tells the story of how he got started acting.  You're going to love it.
For the full interview, click onto the audio link above or download from iTunes.
Hal, I'm curious to know how you identify with a mysterious character like Dempsey when we don't really know who he is?
Hal Holbrook: Well I know he's up to no good. And there are so many people in our society today who are also up to no good. They all wear cuff links and take home millions of dollars. So I have some wonderful examples staring at me in the face every day, every time I turn the news on or pick up the newspaper. So I have no problem understanding playing this man.
The thing that's interesting about a person who is not doing good, sometimes called a villain, I don't know whether this man's a villain or not yet I haven't figured it out, but whatever he is he's up to no good. But what he thinks – a person who does ill toward other people doesn't do it with the idea that he's doing ill. He thinks he's okay. He doesn't say, "I'm doing a bad thing." He thinks he's doing something good and that's what this man thinks.
Denzel Washington and Chris Pine answer some fan questions about their new film, Unstoppable.
Some of the questions they were asked: Did they actually go out with real conductors to prepare, what's the most memorable experience on any mode of transportation (Denzel laughs and say's he can't answer that question) and what is their weirdest fan-related experience (again, Denzel won't answer that question…this time it's in the negative vain).
What do you get when you get Nicole Kidman, Natalie Portman, Amy Adams, Annette Bening, Helena Bonham Carter and Hilary Swank together in a room?
Some great stories, a little dish and great insight into the business.
The Hollywood Reporter gathered them all together for your viewing enjoyment.
There are 3 clips and at the end of the post is the whole conversation (1 hour long).
In this 1st clip, they're asked how they balance work and family.
Podcast: Play in new window | Download (Duration: 30:55 — 21.2MB)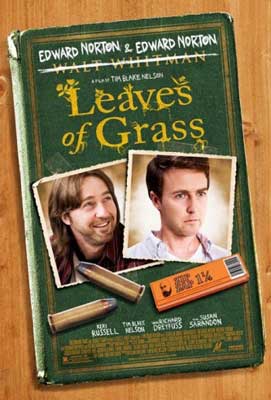 Edward Norton playing twins in a movie that's directed by Tim Blake Nelson? How could that not be great?
And guess what? Leaves Of Grass is great! Edward Norton plays twins Brady and Bill. Brady is a small-time pot grower and Bill is an Ivy league professor. Tim Blake Nelson who also wrote the film plays Brady's redneck friend Bolger.
I saw the premiere at SXSW and the movie is funny, violent and at times, you have no idea where the story is going to take you, which for me, makes the film.
This was another roundtable interview (my question is here) and the interview ran longer than most, so I've cut it down a bit. If you want the whole interview, you can listen/download the whole conversation above or click here for iTunes.
On a side note: I've been interviewing people for a while now and I have to say, Tim Blake Nelson is truly one of the nicest guys around. The day after this interview, I was in the hotel lobby when Tim and I saw each other. He said, "Hi" and we started to have this 5 minute long conversation. It wasn't anything about his movie… just a normal conversation… about BBQ. You gotta love SXSW.
Tim, I was wondering as actor and as a filmmaker do you involve yourself with films that act as a corrective and not go straight towards the stereotypical easy laugh?
Tim Blake Nelson: Yeah, I certainly do.  I do grow tired of intelligence having such a limited manifestation in movies.  And so when I wrote this I knew immediately that the wisest and smartest characters, two characters in the movie in this movie would be the ones who either remained in Oklahoma or returned there.  So, the smartest guy in the movie is Brady.  I think that's evident and it's also stated by the mother.  And the wisest character is Keri Russell's character, and she's chosen to return and write in Oklahoma, and I think she gives the Bill character the wisdom that allows him to begin to move forward in his life as it's collapsing around him.  So, in answer to your question, I was eager to debunk certain stereotypes about Southern characters in this movie.
This question is for both of you and it has to do with that obviously to believe in the duality of it you have to have this suspension of disbelief, and I'd like to hear from you how you achieved it through filmmaking and how you achieved it through your acting.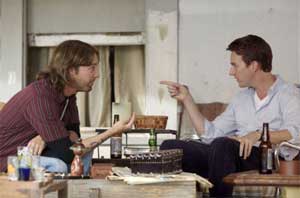 Tim: Yeah, suspension of disbelief in a story like this is pretty essential, although that said, I think you have to be responsible to your story as a storyteller.  To make it feasible enough, and I hope that this story is feasible enough.  There are details peppered throughout that I didn't want to bang the audience over the head with it.  I mean, an obvious question would be well, hang on, wouldn't folks know they were twins, but they didn't grow up in Ida Belle, in the Ida Belle, Broken Bow area.  They grew up in another town, Hugo.  And Brady is moved to Ida Belle.  But these stories are all far-fetched, but the antecedent material for the movie, like in Menander and Plautus and Shakespeare, you know, it's a retelling of a twins genre.  And the main character in the movie is a classicist, and so that's all very intentional.  It's meant to reflect on those earlier works.  The character, Bill, has done a translation of Plautus' play The Menaechmi, which is a Roman twins play.  And so suspension of disbelief and that whole question is part of the fun of the movie.  Alright and now he's going got say thanks for referencing Menander (laughter).
Edward Norton:  Well, no, actually I was going to say that any questions I had about whether a redneck from Oklahoma could actually go and become a Brown classical philosophy professor were ended when I met Tim because I think as you can see one conversation with Tim and you kind of realize, 'Oh, Bill is a believable character.'
John C. Reilly, currently starring in Cyrus, talks about how he developed his character through on-set improvisation with Jonah Hill and Marisa Tomei.
He talks about improvising at the 2:30 mark.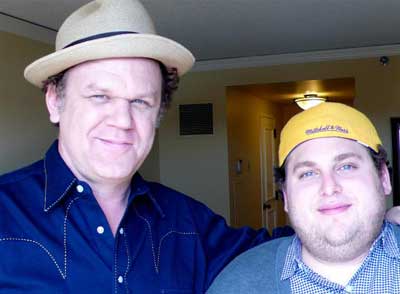 If you have nothing to do this weekend, check out Cyrus!
I saw this back in March at SXSW and it's one of the funniest movies I've seen this year.
I interviewed both John and Jonah for the film (along with the directors, Mark & Jay Duplass).
For the entire interview, click here.
For the Duplass Brothers interview, click here.
Here's a quick excerpt:
You guys did a lot of – I know that the Duplass Brothers do a lot of improvising in their movies.  How much did you guys stray away from the script?
John:  Dialogue-wise we never really did the script.  There were a few places where we did what was written, but for the most part I mean, I thought that was a really kind of egoless way to direct a movie especially since they wrote it.
Jonah:  And it was a really good script. It was a great script. It was actually one of the better scripts I've ever read.
John:  Yeah, you know what needs to happen here.  We don't have to say this. Just say it as honestly as you can to each other.  It was a lot of fun, very empowering, but also a big responsibility.
Did you ever worry that you were ever going to just like – were there a lot of scenes where it just didn't work because you didn't end up in the right place?
Jonah: Only one scene that I think….
John:  A couple places where scenes were…. what we found on the day didn't exactly jive with what the structure of the movie needed to be in the editing room, so in those places I think they did those more creative voiceover things.  You heard dialogue while people are not saying dialogue.  Where they kind of layered, which I thought – it's not what they intentionally set out to do.  It's not that they filmed those scenes so they could do that, it's that we improvised our way through a scene and they turned it into that.  It's one of those cool moments where necessity is the mother of invention.  They created this new interested way to move the story along because they needed to because the scene that they shot was different than that.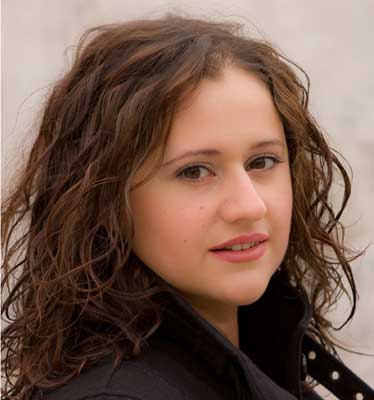 Sofia Gian, does one thing each day to reach her goal of living her dream.  In this process she interviews industry professionals and learns tricks and tips which actors can use to move their careers forward.
Follow her daily quest on www.actressconfessions.typepad.com
Interview with Social Media Strategist/Personal Publicist Joy A. Kennelly
What it's like to work as a Personal Publicist to promote and brand an actor?
Professional Social Media Strategist/Personal Publicist, Joy A. Kennelly knows exactly what goes on behind the scenes when working with an actor or other Celebrity to promote their work and themselves. Joy's experience working red carpet events with her clients has successfully ensured the media develops her client's personal brand through her efforts.
As the strategist behind the brand, Joy Kennelly discusses the world of celebrity marketing, branding and promotion.
How did you get into this industry?
I've been in the entertainment industry for many years and working with talent has always brought a lot of glamour and exposure to whatever I do. When I first started in the business, I produced the Short Pictures International Film Festival (SPIFF) for five years. During that time I worked with a variety of talent over the years, including Forrest Whitaker and Eriq La Salle, among others.
Since that time, I've seen a lot of my SPIFF filmmakers make it to the next level, most recently Tariq Jalil (Executive Producer of Marmaduke) and Jason Reitman (You know who this guy is – GO CANADA!). It's very gratifying to see people I've worked with achieve what they want in the business.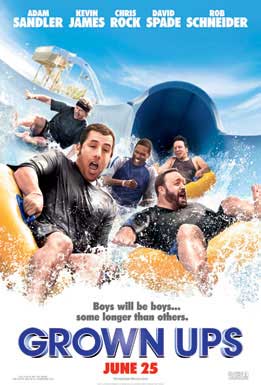 Grown Ups comes out today. The film stars former Saturday Night Live greats Adam Sandler, Chris Rock (ok, he wasn't so great on the show), David Spade and Rob Schneider along side Kevin James.
In the video below (after the jump) the cast talks about what is was like working together, coming up with the jokes and more.
My quick review: What do you get when you make a movie with a bunch of comedians and give them no real script? Stupidity. But guess what? I really enjoyed it.
Is the movie idiotic? Yes. Is there a real plot? No. Is the movie filled with stereotypes? Yes.
But I couldn't help but laugh.