Interview: Keeley Hazell Talks 'Awful Nice', Auditions and Moving to L.A.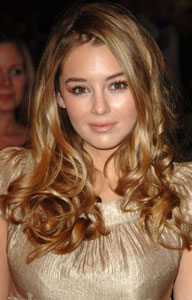 Keeley Hazell is wildly popular model in Britain. She's been a 'Page 3 Girl', appeared in men's magazines like Nuts and Zoo and is an icon to young guys everywhere. To most people, that would have been enough. But, a couple of years ago, she decided to pack up her life, move to LA and give it a go as an actress.
Starting from scratch after having the success like she did is pretty tough. Casting Directors here really didn't know who she was but that was fine because as she told me, "I always seem to put challenges on myself." She started taking classes at Lee Strasburg and now, things are starting to fall into place.
She's currently starring in the new film, Awful Nice. The film is about two estranged brothers, Jim and Dave (James Pumphrey and Alex Rennie) who, after their father dies, have to travel to Branson, Missouri to sell his house. The film, which also stars Christopher Meloni, has some truly hilarious moments and you should definitely check it out if you have a chance. 
I talked to Keeley about moving to Los Angeles, auditions, improv and Awful Nice.
Awful Nice is in theaters March 7th. I really liked the movie. I thought it was very cool. It reminded me of a Duplass Brothers movie. I don't know if you've seen any of their stuff. But it seemed like it would've been a lot of fun on the set.
Keeley Hazell: It was a lot of fun. Yeah.
How'd you get the part? What was the audition like?
Keeley Hazell: I actually got recommended to Todd by the casting director, Mark [Hirschfeld]. And he, yeah, he recommended a bunch of people and had seen some of my work and sent me over and said, "Yes, we want her." So I actually didn't have to audition, which is the best process ever when you just get offered. Best thing.
Not having to audition is the best thing ever, isn't it?
Keeley Hazell: How do you find auditions as an actor?
I hate them. I think they're miserable.
Keeley Hazell: Yeah.
How are you in auditions? Are you nervous?
Keeley Hazell: Yeah, sometimes and then sometimes not. But I hate being nervous when it comes to auditions and it drives me insane. As soon as I [inaudible] it's just fails. It's a whole different process from actually acting. It's such a whole different skillset that you have to acquire and I'm not quite sure I've acquired it.
It is, yeah. And I find that the parts that I could care less about are the ones that I usually end up getting.
Keeley Hazell: Yes, same here. Always the way. The ones you go out and you're like… you go and you don't think about it and you don't put pressure on it and you go book them.
Another thing is like when you're driving home, then that's when you give the best audition. Like, "Oh, I should've done this."
Keeley Hazell: Yes. It's so true. Or in your room. If I only did it like I did in my bedroom!
Yeah, I'm brilliant in front of the mirror.
Keeley Hazell: Yes, I'm amazing in my room. Amazing actor.
Was the film improved? Because it seemed like a lot of it was improved.
Keeley Hazell: A lot of it was improved. Yeah. Which was actually kind of freeing as an actor because I love improv. I think not being bound by a script is great for me and allows me to explore things. And with the guys involved, they're heavy into the background, so they just went off and did their own thing, which is great but then also quite scary when you're like, "How does this work out? Does this all match up?" But I guess that's Todd's job and I did not worry about it.
You're also in Like Crazy and that was improv too, right?
Keeley Hazell: Yes. I was just thinking about Like Crazy as I was speaking because that was… the whole reading was improv. That was a different process though because there wasn't a script. There was literally just an outline. It was a 50 page outline of the movie. Yeah. And then they had the idea of what they needed to capture in each scene and they just went off, which was great because you just sort of… I was like, "Oh, I'm in these scenes and I know this about myself," and then the characters came in and you didn't have any idea where it was going.
Have you taken improv classes? Because you seem to be doing very well in that area.
Keeley Hazell: I haven't taken comedy improv classes but  I did study a lot of improve… I studied it in Lee Strasberg.  It's not like when you study… you have the character and you have the circumstance and you have this and you go off and you just explore. Whereas comedy improv, like UCB or something is very different and I haven't had the chance to study up like I'd like to. Working with the guys, they're all heavily trained in that background. And so it's a very different process. I love improv. It's my favorite.
You're well known in the UK. What was your decision to make the big move to LA? Was it a long time coming? Were you scared to make that leap.
Keeley Hazell: I actually wasn't scared at all. Maybe I should've been. It was kind of… there was two reasons. One, I think… I found a diary entry from '94 that I'd wrote and I can't think how old I would've been. Somewhere between 8 and 12. And as a child, I always wanted to live in America. And so in this I say, "When I'm 18 I'm going to move to America," and I had no idea where because I didn't know the states in America or anything at all, I just had this mindset that I was going to move there from this young age. When I was 18, that was it. That was what was going to happen in my life. And so there's always been that. I always knew at one point it was going to happen. I didn't even know why, but… yeah. And then when I did turn sort of 18 and 19 I came out to visit, I knew LA I was going to move here and just really that timing.
And then, making the transition modeling to an actress, I felt that I wanted to study and sort of do that outside of the UK. Because breaking through that barrier was something I thought would be difficult and I wanted to be somewhere where I could be anonymous. It would be better for me.
It was a combination of those things.
You basically had to start over when you came out here. I'm sure a lot of the casting directors had no idea who you were. How was that?
Keeley Hazell: I think it was great and I only see the positives. I only saw it as a fresh start and that was positive because that was what I needed and what I wanted. And the going out and doing that was kind of fun.
It was also a struggle. Struggle can be challenging and the challenge can be great, but it's also a struggle when you haven't done it.
Yeah, but that's good sometimes. You know? I think it makes you better, too.
Keeley Hazell: Yes. Yes, it does. I always seem to put challenges on myself. Pick the hardest option. I'm like, "Yes, that's what I'm gonna do."
What do you have coming up? I read that you're also writing something?
Keeley Hazell: Yes. I've been collaborating with a young director and we wrote a series.  We're hoping we can get it made and get it shot at some point this year, which would be awesome. That's been great. It's been fun writing. Joyful. It's such a great process.
Latest Videos
http://www.dailyactor.com/wp-content/uploads/2014/09/audtion-tapes-robin-wright-and-h.jpg
Audition Tapes: Robin Wright and Haley Joel Osment Audition with Tom Hanks for 'Forrest Gump'
Check out Robin Wright auditioning for the role of Jenny from Forest Gump opposite Tom Hanks. Interestingly enough, Hanks doesn't quite have Gump's southern drawl down just yet while the other actors audition with him. In fact, Hanks would base Gump's voice on the voice of Michael Conner Humphreys, who played the young Forrest and […]
http://www.dailyactor.com/2014/09/audtion-tapes-robin-wright-haley-joel-osment-tom-hanks-forrest-gump/
http://www.dailyactor.com/wp-content/uploads/2014/08/bryan-cranston-emmy-award-speech.jpg
Watch: Bryan Cranston's Emmy Award Speech: "I love to act. It is a passion of mine and I will do it until my last breath."
The Emmy Awards weren't the most exciting awards show this year but with Bryan Cranston winning for Outstanding Actor in a Drama for Breaking Bad, we at least got to hear one heck of a fantastic acceptance speech. "I was a kid who always looked for the shortcut," he said. "I did happen to stumble […]
http://www.dailyactor.com/2014/08/watch-bryan-cranston-and-aaron-pauls-emmy-award-speeches/
http://www.dailyactor.com/wp-content/uploads/2014/08/audition-tapes-gerard-butler-aud.jpg
Audition Tapes: Gerard Butler Auditions for 'Dracula 2000′
Check out Gerard Butler auditioning for the role of Dracula in the movie, Dracula 2000. The film, about a group of thieves who break into a chamber expecting to find paintings, but instead find Dracula himself, also starred Christopher Plummer, Jonny Lee Miller and Nathan Fillion. Bulter has some sweet rock star hair, huh?
http://www.dailyactor.com/2014/08/audition-tapes-gerard-butler-dracula-2000/
http://www.dailyactor.com/wp-content/uploads/2014/08/interview-matt-dillon-and-carla.jpg
Interview: Matt Dillon and Carla Gugino Talk 'Wayward Pines'
FOX has a new limited-series that's got a terrific cast and interesting premise. It's called Wayward Pines and stars Matt Dillon, Carla Gugino, Melissa Leo, Toby Jones, Terrance Howard, Juliette Lewis, Tim Griffin and Shannyn Sossamon. The show, whose pilot was directed by M. Night Shyamalan, is about a Secret Service agent (Dillon) goes to […]
http://www.dailyactor.com/2014/08/interview-matt-dillon-carla-gugino-wayward-pines-comic-con/
http://www.dailyactor.com/wp-content/uploads/2014/08/interview-wayward-pines-stars-ti.jpg
Interview: 'Wayward Pines' Stars Tim Griffin and Shannyn Sossamon on the Show, Their Characters and More!
Griffin and Sossamonwere at Comic-Con where they sat in on some roundtable interviews to talk about the show.
http://www.dailyactor.com/2014/08/interview-wayward-pines-stars-tim-griffin-shannyn-sossamon-comic-con/