Robert Sean Leonard: "Making TV is really horrible"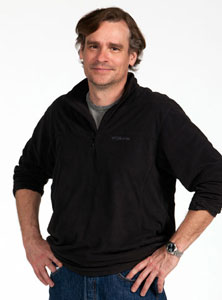 Robert Sean Leonard is one of those many actors who you've definitely seen in role after role even if you can't place his name.  He's appeared in film (Dead Poets Society), television (House), and on Broadway (he won a Tony Award for The Invention of Love) since he began acting as a teenager.  While currently starring as Higgins in Pygmalion at the Old Globe Theatre at San Diego, he spoke candidly about his career to The San Diego Union-Tribune.
When it comes to acting for television, Leonard certainly doesn't glamorize it.  He says, "The hours are so long. And the sun comes up and the sun goes down, and man, you're still there. You don't see your kids. I mean, you're well compensated — overly compensated, to say the least. So you can't complain about it. But it's not fun. Besides the money, there's nothing good about it. It's just a drag."  Furthermore, he later adds, "Making TV is really horrible."
Then again, Leonard doesn't seem to enjoy much about theater either.  When asked about starring a role as popular as Higgins in Pygmalion, he says, "I was terrified to play Higgins. I really was. There are a lot of ghosts in this profession of mine. You don't ever walk into a play on your own. There are many people behind you, taunting you."  Still, in contrast to his feelings on starring in a television series he adds, "I don't find stage work hard."
It's almost odd to hear that from an actor who began appearing on stage at a young age.  He recalls, "My dad often says that he admired my headstrong beginnings.  I don't think of it that way — I don't recall it being that way. But I started at the Public (Theater) when I was 14. I don't know if I would go into it now, with a family. But at 14, you're not thinking. It's not so much bravery as indifference to danger. You don't know it exists.  (So) I didn't have the Glee childhood. Probably luckily. I don't have many regrets about school. I had a better time with Swoosie Kurtz and George Grizzard (his co-stars in the 1985 off-Broadway play The Beach House) than I would've at my prom."
He describes being fueled by ego as a young actor, pointing out, "Between the ages of 14 and 24, it doesn't feel like work, because you're so full of yourself.  You are the center of the universe, and you meet Ethan Hawke at 2 in the morning at the White Horse Tavern to discuss Romeo and Juliet because it feels that important.  Whereas now it'd be, 'Are you out of your (bleeding) mind? Who cares whether you play Mercutio or I play Mercutio?'"
Yet even if he is hesitant to make his acting life sound desirable, Leonard admits that he's been blessed by a great career.  He confesses, "I've been really spoiled.  I'm a spoiled little Chihuahua. I've been doing what I want for my whole career, and being paid pretty well for it."
Latest Videos
http://www.dailyactor.com/wp-content/uploads/2014/08/bryan-cranston-emmy-award-speech.jpg
Watch: Bryan Cranston's Emmy Award Speech: "I love to act. It is a passion of mine and I will do it until my last breath."
The Emmy Awards weren't the most exciting awards show this year but with Bryan Cranston winning for Outstanding Actor in a Drama for Breaking Bad, we at least got to hear one heck of a fantastic acceptance speech. "I was a kid who always looked for the shortcut," he said. "I did happen to stumble […]
http://www.dailyactor.com/2014/08/watch-bryan-cranston-and-aaron-pauls-emmy-award-speeches/
http://www.dailyactor.com/wp-content/uploads/2014/08/audition-tapes-gerard-butler-aud.jpg
Audition Tapes: Gerard Butler Auditions for 'Dracula 2000′
Check out Gerard Butler auditioning for the role of Dracula in the movie, Dracula 2000. The film, about a group of thieves who break into a chamber expecting to find paintings, but instead find Dracula himself, also starred Christopher Plummer, Jonny Lee Miller and Nathan Fillion. Bulter has some sweet rock star hair, huh?
http://www.dailyactor.com/2014/08/audition-tapes-gerard-butler-dracula-2000/
http://www.dailyactor.com/wp-content/uploads/2014/08/interview-matt-dillon-and-carla.jpg
Interview: Matt Dillon and Carla Gugino Talk 'Wayward Pines'
FOX has a new limited-series that's got a terrific cast and interesting premise. It's called Wayward Pines and stars Matt Dillon, Carla Gugino, Melissa Leo, Toby Jones, Terrance Howard, Juliette Lewis, Tim Griffin and Shannyn Sossamon. The show, whose pilot was directed by M. Night Shyamalan, is about a Secret Service agent (Dillon) goes to […]
http://www.dailyactor.com/2014/08/interview-matt-dillon-carla-gugino-wayward-pines-comic-con/
http://www.dailyactor.com/wp-content/uploads/2014/08/interview-wayward-pines-stars-ti.jpg
Interview: 'Wayward Pines' Stars Tim Griffin and Shannyn Sossamon on the Show, Their Characters and More!
Griffin and Sossamonwere at Comic-Con where they sat in on some roundtable interviews to talk about the show.
http://www.dailyactor.com/2014/08/interview-wayward-pines-stars-tim-griffin-shannyn-sossamon-comic-con/
http://www.dailyactor.com/wp-content/uploads/2014/08/interview-m-night-shyamalan-talk.jpg
Interview: M. Night Shyamalan Talks 'Wayward Pines' and Why He Expanded a Young Actors Role on the Show
I talked to Shyamalan at Comic-Con in a roundtable interview where he talked about the cast, what he learned from working in TV and how young actor Charlie Tahan started out with a small part but as the story grew, so did his role.
http://www.dailyactor.com/2014/08/interview-m-night-shyamalan-wayward-pines-comic-con/