Buy 1 Ticket, Get 1 Free for the New Musical, 'Bare'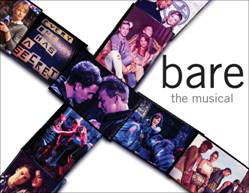 You take the good with the bad.
The new musical Bare is offering a "Take Your Loved One" offer to see the show in honor of PFLAG founder Jeanne Manford.
Basically, buy a ticket, get one free in honor of Manford.
The details are below. 
In honor of PFLAG founder Jeanne Manford, The producers of the new musical BARE are proud to invite you to bring a loved one to see the show as a guest of the production with the purchase of your full price ticket.  Using the code BMPRNTS13, audience members will receive two tickets to BARE for $92.50 for performances from February 1 – March 3, 2013.  To purchase these tickets click HERE or call (800) 432-7250.

"When we read of the passing  of PFLAG founder Jeanne Manford, we were reminded of the huge and lasting impact PFLAG, and Ms. Manford's dedication to the LGTBQ community, had on so many of us involved in BARE," said producer Randy Taradash. "We wanted to honor that work with an opportunity for families to share this unique first-love story together."

Regular tickets to BARE may be purchased via www.Telecharge.com, by calling 212-239-6200 or in person at the New World Stages box office (340 West 50th Street between 8th and 9th Avenue).  Ticket prices range from $26.50 (rush tickets) to $126.50 (premium).  Regular price tickets are $92.50. All ticket prices include a $1.50 facility fee.  Please visit Telecharge.com for a complete performance schedule as well as holiday performance schedules.  The regular performance schedule is Monday at 8pm, Wednesday – Saturday at 8pm, Saturday at 2:30pm, and Sunday at 3pm & 7:30pm.

When your true love is your deepest secret.  When your heart is so full that your head clouds.  When you've let your self-image be a group project.  How much do you share—and with who?  BARE is an exhilarating new rock musical that follows a group of teens trying to navigate the tightrope to adulthood over the minefield of high school.  Along with their teachers, they will wrestle with issues of identity, sexuality, religion and love.  Both deeply moving and heartwarmingly humorous, BAREis for anyone who's ever felt locked out trying to fit in.

BARE began previews Off-Broadway at New World Stages (340 West 50th Street) on Monday, November 19, 2012.  Opening Night was Sunday, December 9, 2012. 

The company features Jason Hite (Jason), Taylor Trensch (Peter) and Elizabeth Judd (Ivy), with Gerard Canonico (Matt), Jerold E. Solomon (Father Mike), Barrett Wilbert Weed (Nadia) and Missi Pyle (Sister Joan).  They will be joined by Anthony Festa (Swing), Casey Garvin (Zack), Ariana Groover (Vanessa), Sara Kapner (Madison), Alice Lee (Diane), Megan Lewis (Swing), Justin Gregory Lopez (Beto), Michael Tacconi (Nick) and Alex Wyse (Alan).

Featuring music by Damon Intrabartolo and book & lyrics by Jon Hartmere, BARE is directed by Olivier® Award nominee Stafford Arima (Carrie, Altar Boyz) and choreographed by Emmy® Award nominee Travis Wall ("So You Think You Can Dance").  Additional music is by Hartmere and Lynne Shankel (Altar Boyz, Cry-Baby, Company).  Music supervision and arrangements are also by Lynne Shankel. 
Latest Videos
http://www.dailyactor.com/wp-content/uploads/2014/08/audition-tapes-gerard-butler-aud.jpg
Audition Tapes: Gerard Butler Auditions for 'Dracula 2000′
Check out Gerard Butler auditioning for the role of Dracula in the movie, Dracula 2000. The film, about a group of thieves who break into a chamber expecting to find paintings, but instead find Dracula himself, also starred Christopher Plummer, Jonny Lee Miller and Nathan Fillion. Bulter has some sweet rock star hair, huh?
http://www.dailyactor.com/2014/08/audition-tapes-gerard-butler-dracula-2000/
http://www.dailyactor.com/wp-content/uploads/2014/08/interview-matt-dillon-and-carla.jpg
Interview: Matt Dillon and Carla Gugino Talk 'Wayward Pines'
FOX has a new limited-series that's got a terrific cast and interesting premise. It's called Wayward Pines and stars Matt Dillon, Carla Gugino, Melissa Leo, Toby Jones, Terrance Howard, Juliette Lewis, Tim Griffin and Shannyn Sossamon. The show, whose pilot was directed by M. Night Shyamalan, is about a Secret Service agent (Dillon) goes to […]
http://www.dailyactor.com/2014/08/interview-matt-dillon-carla-gugino-wayward-pines-comic-con/
http://www.dailyactor.com/wp-content/uploads/2014/08/interview-wayward-pines-stars-ti.jpg
Interview: 'Wayward Pines' Stars Tim Griffin and Shannyn Sossamon on the Show, Their Characters and More!
Griffin and Sossamonwere at Comic-Con where they sat in on some roundtable interviews to talk about the show.
http://www.dailyactor.com/2014/08/interview-wayward-pines-stars-tim-griffin-shannyn-sossamon-comic-con/
http://www.dailyactor.com/wp-content/uploads/2014/08/interview-m-night-shyamalan-talk.jpg
Interview: M. Night Shyamalan Talks 'Wayward Pines' and Why He Expanded a Young Actors Role on the Show
I talked to Shyamalan at Comic-Con in a roundtable interview where he talked about the cast, what he learned from working in TV and how young actor Charlie Tahan started out with a small part but as the story grew, so did his role.
http://www.dailyactor.com/2014/08/interview-m-night-shyamalan-wayward-pines-comic-con/
http://www.dailyactor.com/wp-content/uploads/2014/08/interview-wayward-pines-producer.jpg
Interview: 'Wayward Pines' Producers and Writer Talk Casting and the 10-Episode Format
FOX's upcoming limited series Wayward Pines looks very cool. The show is supposed to be very Twin Peaks-ish in tone which, just hearing that, definitely sparks my interest. The pilot was directed by M. Night Shyamalan and stars Matt Dillon, Carla Gugino, Melissa Leo, Toby Jones, Terrance Howard and Juliette Lewis and is about a […]
http://www.dailyactor.com/2014/08/interview-wayward-pines-creators-comic-con/