'Boardwalk Empire' Star Michael Kenneth Williams Opens Up About His Drug Addictions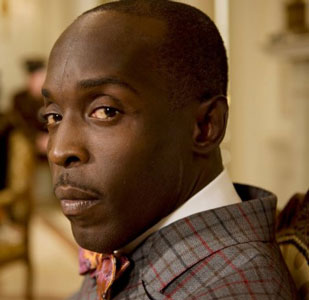 One of the best parts of Boardwalk Empire, the award-winning Prohibition crime drama on HBO, is Michael Kenneth Williams as Chalky White, a bootlegger and the unelected mayor of Atlantic City's African-American work force.  The role comes after several years on The Wire, another crime drama.  But as Williams reveals to NJ.com, his criminal ways on those shows weren't just an act: in real life, he was in deep trouble. 
Shockingly, at the same time Williams was starring in The Wire as a criminal, he was one in real life — in Newark, New Jersey, Williams was a drug abuser, and by his own admission was "in scary places with scary people" surrounded by violent, drug-addicted felons.  
Williams admits that it was a lifestyle that could have lead to the end of his career or worse.  He reveals, "I was playing with fire.  It was just a matter of time before I got caught and my business ended up on the cover of a tabloid or I went to jail or, worse, I ended up dead. When I look back on it now, I don't know how I didn't end up in a body bag."
His drug habits were so secret that even his closest friends couldn't stop him from getting high.  He explains, "Eventually, I got so sick and tired of this charade. No one who was in my circle, who knew me as Mike, was allowing me to get high. I had to slip away to do drugs. I had to hide it. I'd be gone for days at a time. I was lonely in that part of my life. I was broke, broken and beat up. Exhausted. Empty. I finally said, 'I can't do this no more.' I didn't want to end up dead."
His personal life became so hellish that Williams realized that he rather be Omar Little, his character on The Wire, than himself.  He says, "I suffered from a huge identity crisis.  People say they love the characters I've chosen in my career. But I didn't choose anything. I just happened to be working and these were offered to me. But when I look at the characters, I got to exorcise my demons, a lot. In the end, I was more comfortable with Omar's skin than my own. That was a problem… I have to be honest, though, playing Omar was a rush. The response I was getting from people on the street was gratifying. He was my Superman suit, and I had no problem with that. He gave me better street cred than Mike Williams would ever get."
Despite the fact that Williams' addictions never caused him legal trouble or forced him to miss work, he felt compelled to open up about his former lifestyle.  He confesses, "I thought, 'Why me? Why did I get spared?' I should've been dead. I have the scars. I've stuck my head in the lion's mouth. Obviously, God saved me for a purpose. So, I decided to get clean and then come clean. I'm hoping I can reach that one person."  Though he could have kept this secret buried, he hopes that by coming forward he can inspire others to clean up as well.
http://www.dailyactor.com/wp-content/uploads/2015/01/watch-al-pacino-talks-the-humbli.jpg
Watch: Al Pacino Talks 'The Humbling' and His Extraordinary Career
In this conversation with Al Pacino talks about his role in The Humbling -- including working with Greta Gerwig -- and his historic acting career
http://www.dailyactor.com/2015/01/watch-al-pacino-extraordinary-career/
http://www.dailyactor.com/wp-content/uploads/2015/01/watch-oscar-nominee-steve-carell.jpg
Watch: Oscar Nominee Steve Carell Talks Improv, Auditioning for 'The Office' and 'Foxcatcher'
Carell talks about his entire career as an actor, including his background in improv, how he landed the Michael Scott role on The Office, and Foxcatcher
http://www.dailyactor.com/2015/01/oscar-nominee-steve-carell-improv-auditioning-for-the-office-foxcatcher/
http://www.dailyactor.com/wp-content/uploads/2015/01/ethan-hawke-ellar-coltrane-boyhood.jpg
Ethan Hawke Calls 'Boyhood' the "most special endeavor of my life"
Ethan Hawke is riding high with his fourth Oscar nomination for the Richard Linklater-directed Boyhood. In a recent "Ask Me Anything" on Reddit, the 44-year-old actor gave some thoughtful insight into his career and the 12-year creative endeavor that became the biggest film of the Oscar season. When asked what was the most difficult thing about […]
http://www.dailyactor.com/2015/01/ethan-hawke-boyhood-reddit-amaife/
http://www.dailyactor.com/wp-content/uploads/2015/01/martha-plimpton-a-delicate-balance.jpg
Martha Plimpton Takes a Refreshing Approach to a Long-Lasting Career
Martha Plimpton is an actress who enjoys the work, she's not in it for the fame. The proof is in her continually excellent work that she is doing on-screen and on the stage. She's currently starring in A Delicate Balance on Broadway. It's the audience who gives her the ultimate thrill. "I try to get […]
http://www.dailyactor.com/2015/01/martha-plimpton-long-lasting-career/
http://www.dailyactor.com/wp-content/uploads/2015/01/watch-michael-keaton-talks-candi.jpg
Watch: Michael Keaton Talks Candidly About His Career and His Approach to Acting in 'Birdman'
In this nearly 90 minute conversation, Michael Keaton is his usual affable self but is also remarkably candid about his career and his approach to acting.
http://www.dailyactor.com/2015/01/michael-keaton-career-approach-to-acting-birdman/