'Boardwalk Empire' Star Michael Kenneth Williams Opens Up About His Drug Addictions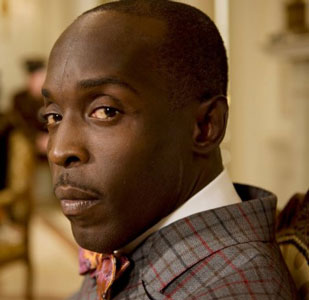 One of the best parts of Boardwalk Empire, the award-winning Prohibition crime drama on HBO, is Michael Kenneth Williams as Chalky White, a bootlegger and the unelected mayor of Atlantic City's African-American work force.  The role comes after several years on The Wire, another crime drama.  But as Williams reveals to NJ.com, his criminal ways on those shows weren't just an act: in real life, he was in deep trouble. 
Shockingly, at the same time Williams was starring in The Wire as a criminal, he was one in real life — in Newark, New Jersey, Williams was a drug abuser, and by his own admission was "in scary places with scary people" surrounded by violent, drug-addicted felons.  
Williams admits that it was a lifestyle that could have lead to the end of his career or worse.  He reveals, "I was playing with fire.  It was just a matter of time before I got caught and my business ended up on the cover of a tabloid or I went to jail or, worse, I ended up dead. When I look back on it now, I don't know how I didn't end up in a body bag."
His drug habits were so secret that even his closest friends couldn't stop him from getting high.  He explains, "Eventually, I got so sick and tired of this charade. No one who was in my circle, who knew me as Mike, was allowing me to get high. I had to slip away to do drugs. I had to hide it. I'd be gone for days at a time. I was lonely in that part of my life. I was broke, broken and beat up. Exhausted. Empty. I finally said, 'I can't do this no more.' I didn't want to end up dead."
His personal life became so hellish that Williams realized that he rather be Omar Little, his character on The Wire, than himself.  He says, "I suffered from a huge identity crisis.  People say they love the characters I've chosen in my career. But I didn't choose anything. I just happened to be working and these were offered to me. But when I look at the characters, I got to exorcise my demons, a lot. In the end, I was more comfortable with Omar's skin than my own. That was a problem… I have to be honest, though, playing Omar was a rush. The response I was getting from people on the street was gratifying. He was my Superman suit, and I had no problem with that. He gave me better street cred than Mike Williams would ever get."
Despite the fact that Williams' addictions never caused him legal trouble or forced him to miss work, he felt compelled to open up about his former lifestyle.  He confesses, "I thought, 'Why me? Why did I get spared?' I should've been dead. I have the scars. I've stuck my head in the lion's mouth. Obviously, God saved me for a purpose. So, I decided to get clean and then come clean. I'm hoping I can reach that one person."  Though he could have kept this secret buried, he hopes that by coming forward he can inspire others to clean up as well.
Latest Videos
http://www.dailyactor.com/wp-content/uploads/2014/09/audtion-tapes-robin-wright-and-h.jpg
Audition Tapes: Robin Wright and Haley Joel Osment Audition with Tom Hanks for 'Forrest Gump'
Check out Robin Wright auditioning for the role of Jenny from Forest Gump opposite Tom Hanks. Interestingly enough, Hanks doesn't quite have Gump's southern drawl down just yet while the other actors audition with him. In fact, Hanks would base Gump's voice on the voice of Michael Conner Humphreys, who played the young Forrest and […]
http://www.dailyactor.com/2014/09/audtion-tapes-robin-wright-haley-joel-osment-tom-hanks-forrest-gump/
http://www.dailyactor.com/wp-content/uploads/2014/08/bryan-cranston-emmy-award-speech.jpg
Watch: Bryan Cranston's Emmy Award Speech: "I love to act. It is a passion of mine and I will do it until my last breath."
The Emmy Awards weren't the most exciting awards show this year but with Bryan Cranston winning for Outstanding Actor in a Drama for Breaking Bad, we at least got to hear one heck of a fantastic acceptance speech. "I was a kid who always looked for the shortcut," he said. "I did happen to stumble […]
http://www.dailyactor.com/2014/08/watch-bryan-cranston-and-aaron-pauls-emmy-award-speeches/
http://www.dailyactor.com/wp-content/uploads/2014/08/audition-tapes-gerard-butler-aud.jpg
Audition Tapes: Gerard Butler Auditions for 'Dracula 2000′
Check out Gerard Butler auditioning for the role of Dracula in the movie, Dracula 2000. The film, about a group of thieves who break into a chamber expecting to find paintings, but instead find Dracula himself, also starred Christopher Plummer, Jonny Lee Miller and Nathan Fillion. Bulter has some sweet rock star hair, huh?
http://www.dailyactor.com/2014/08/audition-tapes-gerard-butler-dracula-2000/
http://www.dailyactor.com/wp-content/uploads/2014/08/interview-matt-dillon-and-carla.jpg
Interview: Matt Dillon and Carla Gugino Talk 'Wayward Pines'
FOX has a new limited-series that's got a terrific cast and interesting premise. It's called Wayward Pines and stars Matt Dillon, Carla Gugino, Melissa Leo, Toby Jones, Terrance Howard, Juliette Lewis, Tim Griffin and Shannyn Sossamon. The show, whose pilot was directed by M. Night Shyamalan, is about a Secret Service agent (Dillon) goes to […]
http://www.dailyactor.com/2014/08/interview-matt-dillon-carla-gugino-wayward-pines-comic-con/
http://www.dailyactor.com/wp-content/uploads/2014/08/interview-wayward-pines-stars-ti.jpg
Interview: 'Wayward Pines' Stars Tim Griffin and Shannyn Sossamon on the Show, Their Characters and More!
Griffin and Sossamonwere at Comic-Con where they sat in on some roundtable interviews to talk about the show.
http://www.dailyactor.com/2014/08/interview-wayward-pines-stars-tim-griffin-shannyn-sossamon-comic-con/