'Three's Company' Owner Goes After Writer of Parody Play '3C'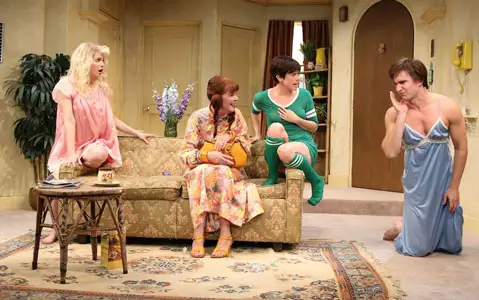 Come and knock on my door… I have a cease and desist letter for you…
Sorry, I know that's an awful joke — it doesn't even fit the melody.  But it's fitting, since playwright David Adjmi found himself on the receiving end of a cease and desist letter from the copyright owner of the 1970s/1980s television series Three's Company on the day of the opening night of his new play, 3C.  3C borrows the premise of Three's Company — a man who is pretending to be homosexual in order to live with two female roommates — and the cast even visually looks like their 1970s counterparts, though Adjmi uses that initial material to develop different relationships among the characters.
Initially Adjmi agreed with the Three's Company copyright holder, DLT Entertainment, to not produce the play or publish the script after its initial five-week Off-Broadway run at the Rattlestick Playwrights Theater.  It is essentially a death sentence for Adjmi's work, since it means that it would only exist in the memories of those who had seen the play during its already-ended initial run. 
While parody is protected under the law — otherwise how else has MAD Magazine stayed in existence for decades — Adjmi admits he doesn't have the money to fund the legal muscle required to fight DLT Entertainment's lawyers.  Donald Taffner Jr, president of the company, explains that one of the reasons his company fought against 3C is that DLT Entertainment is actually considering a stage version of Three's Company on its own and doesn't want to hurt the brand.  He also claims that 3C borrows too many elements of the work it's based off to be considered "fair use."
Despite Adjmi's agreement (he had not signed a contract stating he would not produce the play), other playwrights are encouraging him to fight against DLT Entertainment, including Other Desert Cities writer Jon Robin Baitz.  Speaking to The New York Times, Baitz says of the controversy, "The fact that the lawyers for the long-gone show Three's Company have nothing better to do, aside from billing legal hours like truffle pigs, than attempt to bully an Off Broadway playwright of modest means is an affront of the most base kind."
With parody musicals and plays currently popular in off-Broadway theater — including recent productions of parodies of Silence of the Lambs, Twilight, and Harry Potter — it's worth observing whether the action taken by DLT Entertainment against 3C will set a precedent that would prevent playwrights from using parody in their future work. 
http://www.dailyactor.com/wp-content/uploads/2015/02/Larry-David.jpg
Larry David on Who he Wanted to Star in his Broadway Play 'Fish in the Dark': "Anybody but me"
"It's one of the reasons I didn't like acting. I don't like not being able to interject" – Larry David on acting with a script Who doesn't like Larry David? Well, to be honest, Larry David probably doesn't like Larry David. In fact, David didn't even want to cast himself in the lead of […]
http://www.dailyactor.com/2015/02/larry-david-on-who-he-wanted-to-star-broadway-play-fish-in-the-dark/
http://www.dailyactor.com/wp-content/uploads/2015/02/Helen-Mirren-The-Queen.jpg
Helen Mirren on Winning an Oscar: "It's an indescribable moment"
"It's hard to say, because you don't know what would have happened if you hadn't won" - Helen Mirren When Asked If Winning an Oscar Changed Her Career
http://www.dailyactor.com/2015/02/helen-mirren-on-winning-an-oscar/
http://www.dailyactor.com/wp-content/uploads/2015/02/anna-chlumsky-james-earl-jones.jpg
Anna Chlumsky on Her Broadway Debut: "For me, it was an opportunity to go in the direction that I hadn't played in a while"
"I think my personality lends itself to ensembles" - Anna Chlumsky
http://www.dailyactor.com/2015/02/anna-chlumsky-broadway-debut-ensemble/
http://www.dailyactor.com/wp-content/uploads/2015/02/joanne-froggatt-downton-abbey.jpg
'Downton Abbey' Star Joanne Froggatt on Creating Her Own Backstory and How She's "Not a Big-Budget Hollywood Type"
"They want the model type, classically beautiful, and I'm not" - Joanne Froggatt on Working in Hollywood
http://www.dailyactor.com/2015/02/downton-abbey-star-joanne-froggatt-character-backstory-hollywood/
http://www.dailyactor.com/wp-content/uploads/2015/01/al-pacino-the-humbling.jpg
Al Pacino on Acting: "It becomes such a part of your nature you rarely ever think about quitting"
After working infrequently in film over the last decade, Al Pacino appears in several films released in 2015, including The Humbling, an indie drama directed by Barry Levinson.
http://www.dailyactor.com/2015/02/al-pacino-on-acting-it-becomes-such-a-part-of-your-nature/