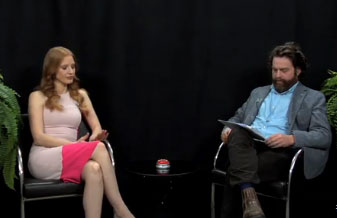 Zach Galifianakis' Between Two Ferns is back just in time for the upcoming Academy Awards.
In this two-parter, Galifianakis chats with Oscar nominees Jennifer Lawrence, Anne Hathaway, Sally Field, Christoph Waltz, Jessica Chastain, Amy Adams, Naomi Watts and Bradley Cooper.
They are both hilarious; from Lawrence telling Galifianakis to stop eating pudding to Adams dramatic line reading of "Don't you ever fart on my t— again."
Check them out below!