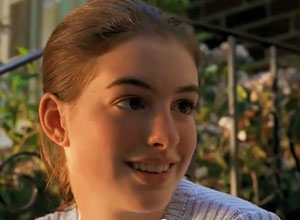 Every actor gets their modest start somewhere. 
For One Day  star Anne Hathaway it was a commercial back in 1997 where she first began perfecting her craft and those teary scenes.  Before becoming a household name somewhere between The Princess Diaries and The Devil Wears Prada, Hathaway appeared in a Real Estate commercial for Better Homes and Gardens. 
In the video clip (that has made its way mysteriously back in rotation) the in demand star is seen overcome with teenage angst, and a style that screams the 90's.
Pointed out by The Huffington Post, the video's YouTube description "says the clip was shot in 1997 and according to [Hathaway's] mom on the set, it was the first time she was ever in front of a camera." 
Watch the video below.