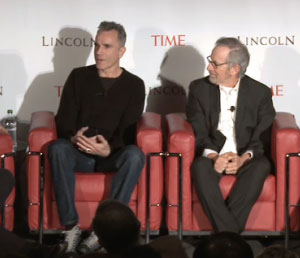 Here is a short Q&A the folks at Time Magazine did with Daniel Day-Lewis, Steven Spielberg and writer Tony Kushner about their new film, Lincoln.
The film is great and Day-Lewis is spectacular.
In the video below, they talk about the voice, how Day-Lewis asked Kushner to put the word "disenthrall" into the script (because Lincoln used the word in one of his speeches) and more.
Check it out below!