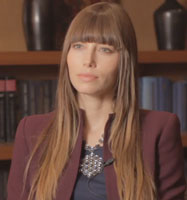 Jessica Biel, currently starring in Hitchcock, talks about her career and how she got started acting; "I remember seeing Annie on Broadway," she says, and that's when the bug started.
In the THR video, she goes on to talk about her career, some of the challenges she's faced and also a bit about Hitchcock, which comes out today. 
 I thought it was really interesting and even if you're not the biggest fan, it's definitely worth checking out.