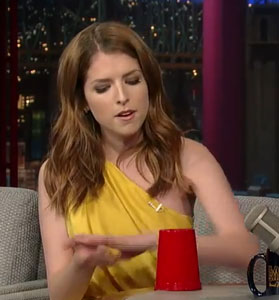 Last week, we told you about Anna Kendrick and how she auditioned for Pitch Perfect. She had found a video online of a girl performing a song with a cup, thought it was cool and she spent a day learning it. For no reason other than thinking it was fun.
When her audition for Pitch Perfect (which is great, by the way) came around, she decided to use the cup song.
Last week when she was on Late Show with David Letterman, Letterman surprised her with a cup and asked her to perform it for him and the audience. Check it out below!