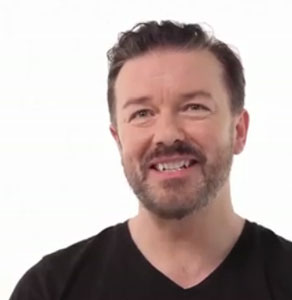 Eschewing the traditional interviewer/interviewee set-up, Ricky Gervais read himself questions and answered them with his trademark wit in a video posted on the Time's website last week. The one-sided exchange included talk about Gervais' Golden Globes hosting gig, his recent cameo on The Office and the TV projects he's currently involved with.
Gervais' made headlines in January after hosting the popular film and television awards ceremony, a role which he likely won't reprise in 2012. Few members of the Hollywood elite appreciated his biting commentary on the American entertainment world, and Gervais also received plenty of flack from critics and the general viewing public. "I didn't say anything that bad," he insisted in the video. "I teased the most privileged, richest, most powerful people in the world for a little bit. I was having a go at people who pretend to be someone else all day."
Of his January cameo on the U.S. take of The Office, Gervais said, "That was great fun. I would like to pop up again." The co-creator of the original British Office had a brief scene with series star Steve Carrell, whose Michael Scott character is modeled after Gervais' David Brent.
Gervais has two new projects, the hilarious HBO special Talking Funny and BBC2's Life's Too Short. The hour-long Funny aired Sunday and featured a roundtable of Gervais, Jerry Seinfeld, Louis C.K. and Chris Rock. "It's four blokes just sitting around trying to make each other laugh," he explained.
Video after the jump.