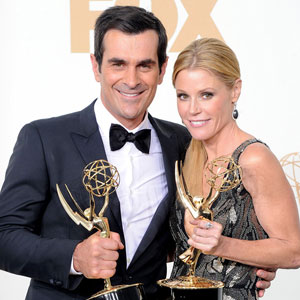 Modern Family was the big winner at the 63rd annual Emmy Awards, taking home both supporting comedy acting awards (Ty Burell and Julie Bowen) and Outstanding Comedy Series. Well deserved if you ask me.
Mad Men won its fourth award for Outstanding Drama Series (Yes!) while Downtown Abbey won for Outstanding Directing For A Miniseries, Movie Or A Dramatic Special. I've been sitting on Downton Abbey for months now so I guess that means I have to watch it.
In the acting catagories, Jim Parsons (Big Bang Theory) won for Outstanding Actor in a Comedy and in something that was a surprise, Melissa McCarthy won Outstanding Actress in a Comedy for Mike & Molly. 
In the dramatic categories, Kyle Chandler won Outstanding Actor in a Drama for Friday Night Lights and Julianna Margulies got her Outstanding Actress in a Drama for The Good Wife.
Peter Dinklage deservedly won Outstanding Supporting Actor In A Drama Series for his work on HBO's Game of Thrones while Margo Martindale won Outstanding Supporting Actress In A Drama Series for Justified.
And finally, Kate Winslet is one more award down on her quest of EGOT (Emmy, Grammy, Oscar, Tony) glory having one Outstanding Leading Actress in a Mini-series or Movie for Mildred Pierce.

Check out the full list of all the winners and opening of the show below! 
Outstanding Drama Series
"Boardwalk Empire"
"Dexter"
"Friday Night Lights"
"Game Of Thrones"
"The Good Wife"
"Mad Men"
Outstanding Comedy Series
"The Big Bang Theory"
"Glee"
"Modern Family"
"The Office"
"Parks And Recreation"
"30 Rock"
Outstanding Miniseries Or Movie
"Cinema Verite"
"Downton Abbey"
"The Kennedys"
"Mildred Pierce"
"The Pillars Of The Earth"
"Too Big To Fail"
Outstanding Variety, Music Or Comedy Series
"The Colbert Report"
"Conan"
"The Daily Show With Jon Stewart"
"Late Night With Jimmy Fallon"
"Real Time With Bill Maher"
"Saturday Night Live"
Outstanding Reality-Competition Program
"The Amazing Race"
"American Idol"
"Dancing With The Stars"
"Project Runway"
"So You Think You Can Dance"
"Top Chef"
Outstanding Lead Actor In A Comedy Series
"The Big Bang Theory," Jim Parsons as Sheldon Cooper
"The Big Bang Theory," Johnny Galecki as Leonard Hofstadter
"Episodes," Matt LeBlanc as Matt LeBlanc
"Louie," Louie C.K. as Louie
"The Office," Steve Carell as Michael Scott
"30 Rock," Alec Baldwin as Jack Donaghy

Outstanding Lead Actor In A Drama Series
"Boardwalk Empire," Steve Buscemi as Nucky Thompson
"Dexter," Michael C. Hall as Dexter Morgan
"Friday Night Lights," Kyle Chandler as Coach Eric Taylor
"House," Hugh Laurie as Dr. Gregory House
"Justified," Timothy Olyphant as Raylan Givens
"Mad Men," Jon Hamm as Don Draper

Outstanding Lead Actor In A Miniseries Or A Movie
"Carlos," Edgar Ramirez as Carlos
"The Kennedys," Greg Kinnear as John F. Kennedy
"The Kennedys," Barry Pepper as Bobby Kennedy
"Luther," Idris Elba as John Luther
Thurgood," Laurence Fishburne as Thurgood Marshall
"Too Big To Fail," William Hurt as Henry 'Hank' Paulson

Outstanding Lead Actress In A Comedy Series
"The Big C," Laura Linney as Cathy Jamison
"Mike & Molly," Melissa McCarthy as Molly Flynn
"Nurse Jackie," Edie Falco as Jackie Peyton
"Parks And Recreation," Amy Poehler as Leslie Knope
"Raising Hope," Martha Plimpton as Virginia Chance
"30 Rock," Tina Fey as Liz Lemon
Outstanding Lead Actress In A Drama Series
"Friday Night Lights," Connie Britton as Tami Taylor
"The Good Wife," Julianna Margulies as Alicia Florrick
"Harry's Law," Kathy Bates as Harriet "Harry" Korn
"The Killing," Mireille Enos as Sarah Linden
"Law & Order: Special Victims Unit," Mariska Hargitay as Detective Olivia Benson
"Mad Men," Elisabeth Moss as Peggy Olson
Outstanding Lead Actress In A Miniseries Or A Movie
"Cinema Verite," Diane Lane as Patricia Loud
"Downton Abbey," Elizabeth McGovern as Cora, Countess of Grantham
"Mildred Pierce," Kate Winslet as Mildred Pierce
"Taken From Me: The Tiffany Rubin Story," Taraji P. Henson as Tiffany Rubin
"Upstairs Downstairs," Jean Marsh as Rose Buck

Outstanding Supporting Actor In A Comedy Series
"Glee," Chris Colfer as Kurt Hummel
"Modern Family," Jesse Tyler Ferguson as Mitchell Pritchett
"Modern Family," Ed O'Neill as Jay Pritchett
"Modern Family," Eric Stonestreet as Cameron Tucker
"Modern Family," Ty Burrell as Phil Dunphy
"Two And A Half Men," Jon Cryer as Alan Harper
Outstanding Supporting Actor In A Drama Series
"Game Of Thrones," Peter Dinklage as Tyrion Lannister
"The Good Wife," Josh Charles as Will Gardner
"The Good Wife," Alan Cumming as Eli Gold
"Justified," Walton Goggins as Boyd Crowder
"Mad Men," John Slattery as Roger Sterling
Men Of A Certain Age," Andre Braugher as Owen
Outstanding Supporting Actor In A Miniseries Or A Movie
"The Kennedys," Tom Wilkinson as Joe Kennedy
"Mildred Pierce," Guy Pearce as Monty Beragon
"Mildred Pierce," Brian F. O'Byrne as Bert Pierce
"Too Big To Fail," Paul Giamatti as Ben Bernanke
"Too Big To Fail," James Woods as Richard Fuld
Outstanding Supporting Actress In A Comedy Series
"Glee," Jane Lynch as Sue Sylvester
"Hot In Cleveland," Betty White as Elka Ostrosky
"Modern Family," Julie Bowen as Claire Dunphy
"Modern Family," Sofia Vergara as Gloria Delgado-Pritchett
"Saturday Night Live," Kristen Wiig as Various characters
"30 Rock," Jane Krakowski as Jenna Maroney
Outstanding Supporting Actress In A Drama Series
"Boardwalk Empire," Kelly MacDonald as Margaret Schroeder
"The Good Wife," Archie Panjabi as Kalinda Sharma
"The Good Wife," Christine Baranski as Diane Lockhart
"Justified," Margo Martindale as Mags Bennett
"The Killing," Michelle Forbes as Mitch Larsen
"Mad Men," Christina Hendricks as Joan Harris
Outstanding Supporting Actress In A Miniseries Or A Movie
"Downton Abbey," Maggie Smith as Violet, Dowager Countess of Grantham
"Mildred Pierce," Evan Rachel Wood as Veda Pierce
"Mildred Pierce," Melissa Leo as Lucy Gessler
"Mildred Pierce," Mare Winningham as Ida
"Upstairs Downstairs," Eileen Atkins as Lady Maud Holland
Outstanding Directing For A Comedy Series
"How I Met Your Mother" • Subway Wars
"Modern Family" • Halloween
"Modern Family" • Slow Down Your Neighbors
"Modern Family" • See You Next Fall
"30 Rock" • Live Show

Outstanding Directing For A Drama Series
"Boardwalk Empire" • Pilot
"Boardwalk Empire" • Anastasia
"The Borgias" • The Poisoned Chalice/The Assassin
"Game Of Thrones" • Winter Is Coming (Pilot)
"The Killing" • Pilot
Outstanding Directing For A Miniseries, Movie Or A Dramatic Special
"Carlos"
"Cinema Verite"
"Downton Abbey"
"Mildred Pierce"
"Too Big To Fail"
Outstanding Directing For A Variety, Music Or Comedy Series
"American Idol"
"The Colbert Report"
"The Daily Show With Jon Stewart"
"Late Show With David Letterman:
"Saturday Night Live" • Host: Justin Timberlake
Outstanding Writing For A Comedy Series
"Episodes"
"Louie"
"Modern Family"
"The Office"
"30 Rock"

Outstanding Writing For A Drama Series
"Friday Night Lights"
"Game Of Thrones"
"The Killing"
"Mad Men" • The Suitcase
"Mad Men" • Blowing Smoke
Outstanding Writing For A Miniseries, Movie Or A Dramatic Special
"Downton Abbey"
"Mildred Pierce"
"Sherlock: A Study In Pink"
"Too Big To Fail"
"Upstairs Downstairs"

Outstanding Writing For A Variety, Music Or Comedy Series
"The Colbert Report"
"Conan"
"The Daily Show With Jon Stewart"
"Late Night With Jimmy Fallon"
"Saturday Night Live"