On tonight's Inside the Actors Studio, the cast of Modern Family sits down and talks with host James Lipton.
Ok, the whole cast minus the kids. What? No Manny?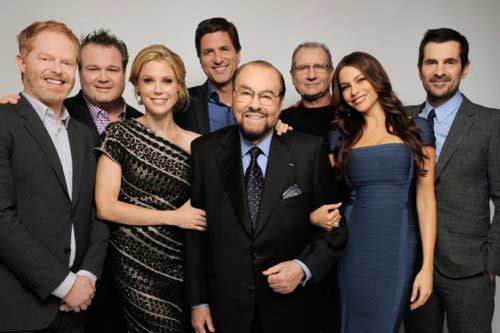 The clips are all great but my favorite is Ed O'Neill telling the story of how he got the part of Al Bundy.
Check them out after the jump!
The cast talk about who influenced them growing up.
Ty Burrell admits he kept the bar purposely low after he earned his MFA. Let him explain.
Julie Bowen shares her experience from studying in Florence to studying in the Actors Institute.
Julie Bowen shares what it was like to train in England.
This is how Jesse Tyler Ferguson describes Eric Stonestreet for Eric's role in Modern Family.
Ed O'Neill discusses how he got the part of Al Bundy.
Jesse Tyler Ferguson discloses that he was a shy and awkward kid.
Eric Stonestreet shares his interest in clowns.
Sofia Vergara shares what her childhood interest was which was the same as Jesse Tyler Ferguson's.
Steven Levitan discusses how the mockumentary aspect of Modern Family came up.