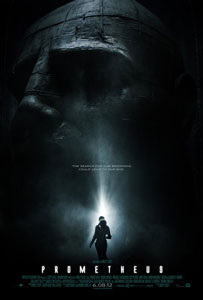 I was at WonderCon this past weekend and by far, this trailer and the panel for Prometheus was the hot news of the weekend.
So, it figures I was stuck in interviews while it was happening. But as with most Con's, the trailer was released soon after. And it looks great!
Below is the trailer from this weekend and the shorter IMAX version.
Synopsis: Ridley Scott, director of "Alien" and "Blade Runner," returns to the genre he helped define. With PROMETHEUS, he creates a groundbreaking mythology, in which a team of explorers discover a clue to the origins of mankind on Earth, leading them on a thrilling journey to the darkest corners of the universe. There, they must fight a terrifying battle to save the future of the human race.
Director: Ridley Scott

Cast: Noomi Rapace, Michael Fassbender, Guy Pearce, Idris Elba, Logan Marshall-Green, Charlize Theron

Writers: Damon Lindelof, John Spaihts
In theaters: June 8th
IMAX Trailer