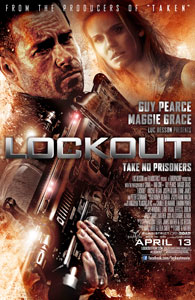 Last but not least from WonderCon is the trailer and clips for Lockout.
Starring Guy Pearce (Memento, Prometheus) and Maggie Grace (Taken, The Twilight Saga: Breaking Dawn), the film is set in the near future and follows a falsely convicted ex-government agent (Pearce). His one chance at obtaining freedom lies in the dangerous mission of rescuing the President's daughter (Grace) from rioting convicts at an outer space maximum-security prison.
I talked with Maggie Grace – the interview will be up soon – and she was really excited about the film. From the looks of it, it's one of those cheesy but fun actioners with a great cast (Lennie James, Peter Stormare). Check it out below!
The film opens April 13th.

via Latino Review