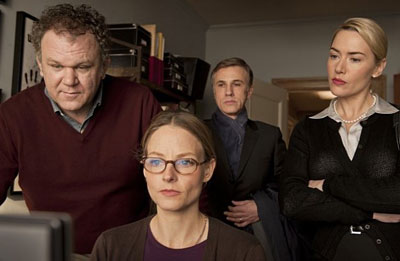 Carnage: After two boys duke it out on a playground, the parents of the "victim" invite the parents of the "bully" over to work out their issues. A polite discussion of child rearing soon escalates into verbal warfare, with all four parents revealing their true colors. None of them will escape the carnage.
Starring: Jodie Foster, Kate Winslet, Christoph Waltz, John C. Reilly
Directed by: Roman Polanski
This film is based on the play God of Carnage that ran on Broadway (and LA) in 2009 and starred Jeff Daniels, Hope Davis, James Gandolfini and Marcia Gay Harden. I love John C. Reilly, Jodie Foster and the rest of the cast but I just wish that they used the original Broadway cast. Everyone was nominated for a Tony and Harden brought home a trophy.
In Theaters: December 16, 2011