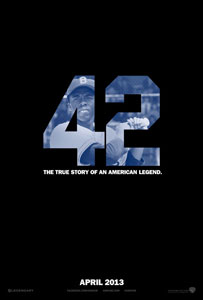 This looks pretty damn good. The only bad thing is we have to wait till next April to see it.
Writer/Director: Brian Helgeland
Cast: Harrison Ford, Christopher Meloni, Ryan Merriman, Brad Beyer, Judy Tylor, Jon Bernthal, Nicole Beharie, Chadwick Boseman, T.R. Knight
Synopsis: Warner Bros. Pictures and Legendary Pictures are teaming up with director Brian Helgeland for "42," the powerful story of Jackie Robinson, the legendary baseball player who broke Major League Baseball's color barrier when he joined the roster of the Brooklyn Dodgers. "42" will star Academy Award(R) nominee Harrison Ford ("Witness") as the innovative Dodger's general manager Branch Rickey, the MLB executive who first signed Robinson to the minors and then helped to bring him up to the show, and Chadwick Boseman ("The Express") as Robinson, the heroic African American who was the first man to break the color line in the big leagues.
In theaters: April 12th, 2013