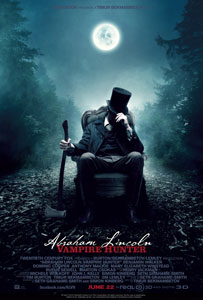 This was shown at WonderCon this past weekend and I missed posting it yesyerday.
This new trailer got a great response and I have to say, it does look pretty good. I really liked Timur Bekmambetov's Wanted and loved (loved!) star Benjamin Walker when I saw him on Broadway in Bloody Bloody Andrew Jackson. So, I have high hopes for this.
Synopsis: Abraham Lincoln: Vampire Hunter explores the secret life of our greatest president, and the untold story that shaped our nation. Visionary filmmakers Tim Burton and Timur Bekmambetov (director of Wanted) bring a fresh and visceral voice to the bloodthirsty lore of the vampire, imagining Lincoln as history's greatest hunter of the undead.
Director: Timur Bekmambetov
Cast: Benjamin Walker, Dominic Cooper, Anthony Mackie, Mary Elizabeth Winstead
In theaters: June 22nd, 2012