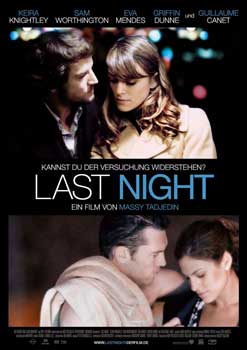 Massy Tadjedin has a lot to say with her directorial début.  "Last Night" stars Academy Award nominee Keira Knightly and Sam Worthington, as Joanna and Michael Reed.   A cultured young couple living in Manhattan.
In the clip below, we see how the trouble begins.  While attending a company party, Joanna watches Michael talking to his attractive co-worker Laura (Eva Mendes) whom he has not mentioned before.  The audience sees the worried look on Joanna's face, as her husband seems to enjoy the company he is with.
The party is a tool for the movie, driving the plot into play.  From here, Joanna becomes jealous and suspicious of her husband's actions.  He puts her assumptions to rest that evening, comforting her before he leaves on a business trip to Philadelphia with Laura the following day. While on the business trip Joanna runs into an ex-lover Alex (Guillaume Canet) at a local coffee shop.  The film then teases between the husband and wife, showing the temptations and trials that each faces.  This leaves us, as the audience to make our decisions on what we want to see happen.  An interesting take on an old story.
"Last Night" Premieres in Theaters Friday May 6th (Limited Release)
Clip via Moviefone