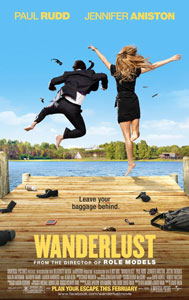 Yesterday, we posted 2 clips from Wanderlust, which stars Paul Rudd and Jennifer Aniston. Today, they've just released a new Red-Band trailer for the David Wain directed film.
The film also stars Justin Theroux, Malin Akerman and Lauren Ambrose and as far as I'm concerned, it can't get released fast enough. This looks hilarious.
Synopsis: Rattled by sudden unemployment, a Manhattan couple surveys alternative living options, ultimately deciding to experiment with living on a rural commune where free love rules.
In Theaters: February 24th