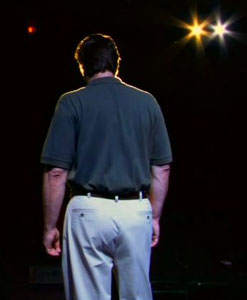 Here's the trailer for a new documentary called, The Standbys. It's the story of 3 Broadway understudies (Ben Crawford, Merwin Foard, and Aléna Watters) and it looks great. I want to see it now. Like, right now. 
The film also features Michael Riedel of the New York Post, Cheyenne Jackson, Bebe Neuwirth and David Hyde Pierce – all of which you can see in the trailer.
Here's the synopsis: The Standbys is a story of the actors you don't see. Those performers who are so talented that huge Broadway productions trust them to stand by backstage as understudies for the lead to carry an entire show. The only catch is that they're never going to be famous enough names to actually be given that lead role in a production. This documentary film follows three amazingly gifted but undiscovered performers backstage on Broadway through their dramatic ups and downs, struggles and triumphs, onstage performances and private lives. All of them fighting against long odds with the hope that one day all of their hard work will finally earn them a moment in the spotlight to prove what they're capable of.
The film will premiere this Saturday, May 12 at 2 PM at The Paley Center for the Media as part of the 2012 Tony Award Film Series.
Check it out below!