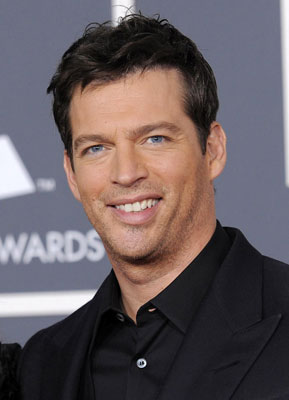 HARRY CONNICK, JR. RETURNS TO BROADWAY
in
ON A CLEAR DAY YOU CAN SEE FOREVER
A NEW BOOK BY PETER PARNELL
BASED ON THE ORIGINAL BOOK BY ALAN JAY LERNER
MUSIC BY BURTON LANE & LYRICS BY ALAN JAY LERNER
RECONCEIVED AND DIRECTED BY MICHAEL MAYER
OPENING FALL 2011 ON BROADWAY
(New York, NY – Tuesday, March 1, 2011) Grammy and Emmy Award winner, Tony Award nominee and multi-platinum recording artist Harry Connick, Jr. will star in a reimagined production of ON A CLEAR DAY YOU CAN SEE FOREVER opening fall 2011 on Broadway at a theatre to be announced.  The delightful Tony Award nominated score by Burton Lane (music) and Alan Jay Lerner (lyrics) is enhanced by classics from their film scores for On A Clear Day You Can See Forever (1970) and Royal Wedding (1951).  With a new book by Peter Parnell based on the original book by Alan Jay Lerner, the musical is reconceived and directed by Tony Award winner Michael Mayer. Further casting and creative team to be announced shortly.

Originating producer Liza Lerner joins with Tom Hulce and Ira Pittelman and Broadway Across America (John Gore, Thomas B. McGrath, Beth Williams) to bring ON A CLEAR DAY YOU CAN SEE FOREVER to Broadway.
Love blooms in unexpected places in the delightfully reimagined world of ON A CLEAR DAY YOU CAN SEE FOREVER. Still in love with his deceased wife, Dr. Mark Bruckner (Harry Connick, Jr.), a dashing psychiatrist and professor, unknowingly takes on the case of his life with David Gamble, a quirky young florists' assistant.  While putting David under hypnosis to help him quit smoking so he can move in with his perfect boyfriend Warren, Dr. Bruckner stumbles upon what he believes to be David's former self – a dazzling and self-possessed 1940's jazz singer Melinda Wells.  Instantly intrigued by Melinda, Dr. Bruckner finds himself swept up in the pursuit of an irresistible (and impossible) love affair with this woman from another time and place, who may or may not have ever existed.  Michael Mayer and Peter Parnell's enchanting new version celebrates much of the beloved score from the 1965 musical including the classic hits "Come Back To Me," "What Did I Have That I Don't Have Now?," "She Isn't You," and the titular "On a Clear Day You Can See Forever," while adding songs from the film score such as "Love With All The Trimmings," and "Go To Sleep."  Songs from the Lerner and Lane score for the film Royal Wedding such as "Ev'ry Night At Seven," "You're All The World To Me," "Open Your Eyes" and "Too Late Now" complete the landscape for this romantic musical comedy.  This production of ON A CLEAR DAY makes the case for living life with your eyes, and heart, wide open.
ORIGINAL PRODUCTION HISTORY
ON A CLEAR DAY originally opened on Broadway at the Mark Hellinger Theatre on October 17, 1965 and starred Barbara Harris as "Daisy Gamble" and John Cullum as "Dr. Mark Bruckner," who both received Tony Award Nominations for their performances, as did the score. In 1970 it was adapted into a film directed by Vincente Minnelli, which starred Barbra Streisand as "Daisy Gamble" and Yves Montand as "Dr. Mark Bruckner."
NEW PRODUCTION HISTORY
Following a developmental workshop at The Vineyard Theatre in the fall of 2009, the production received a series of concert readings as part of New York Stage and Film and Vassar's Powerhouse Theater season in the summer of 2010.  The full production, originally scheduled to debut at The Vineyard Theatre in February 2011, will now debut on Broadway in the fall of 2011.  This summer, The Vineyard Theatre (108 E. 15 Street) will produce a developmental process for the show that will culminate in a developmental lab production.
BIOGRAPHIES
Over the past two decades, Harry Connick, Jr. has proven to be among the world's most successful and multi-talented artists.  While he first reached a mass audience as a pianist, singer and bandleader, his subsequent success in film, television and theatre have secured his place as a renaissance man and a versatile entertainer second to none, garnering him three Grammy Awards and an Emmy Award, as well as two Tony Award nominations.  Following a sold-out concert series at Broadway's Lunt-Fontanne Theatre in 1990, Tony nominations for his performance in The Pajama Game and his music and lyrics in Thou Shalt Not, Connick dazzled audiences during the summer of 2010 with the critically acclaimed, sold-out run of Harry Connick, Jr. in Concert on Broadway at the Neil Simon Theatre.  Columbia Records recently announced that they will release a hi-definition DVD/Blu-ray of the Neil Simon Concert on March 1, 2011.  The show will also air on PBS beginning March 2nd as part of the national "Great Performances" series.  Raised in New Orleans, Connick first performed publicly at age five, appeared on his first recording at age ten and released his self-titled major-label debut on Columbia Records at 19.  Since then he has recorded over 24 albums which have garnered sales of over 25 million, and is ranked among the top best-selling male artists in the United States by the Recording Industry Association of America. Film credits include Memphis Belle; Little Man Tate; Copycat; Independence Day; Hope Floats; My Dog Skip; The Iron Giant; The Simian Line; P.S., I Love You; New in Town; Mickey; Bug; and Living Proof.  Connick has contributed music to several films including When Harry Met Sally (leading to his first multiplatinum album), The Godfather III and Sleepless in Seattle. Television credits include "When My Heart Finds Christmas" (CBS) and "Harry for the Holidays" (NBC); three Great Performances (PBS) specials: "Swingin' Out Live," "Harry Connick, Jr.: Only You in Concert" (2004 Emmy Award), and "Harry Connick, Jr. in Concert on Broadway"; "The Happy Elf" (NBC); "South Pacific" (ABC); and "Will & Grace" (NBC, recurring role of Dr. Leo Markus).
In addition to writing ON A CLEAR DAY with Burton Lane, lyricist/librettist Alan Jay Lerner and Lane wrote the movie musical, Royal Wedding and the musical Carmelina.  With his frequent collaborator Frederick Loewe, he created some of the world's most popular and enduring works of musical theatre for both the stage and on film, including Brigadoon, Paint Your Wagon, My Fair Lady, Camelot, and Gigi. Lerner also wrote the libretto for An American In Paris, the first musical film to win an Academy Award.  He won three Tony Awards and three Academy Awards, among other honors.
Composer Burton Lane is best known for his score for the musical Finian's Rainbow. In addition to ON A CLEAR DAY with Lerner, they also collaborated on the Broadway score for Carmelina and the film Royal Wedding.  His other Broadway scores include Hold on to Your Hats, Three's a Crowd, Earl Carroll's Vanities and Laffing Room Only.  During his career, Lane composed songs for over 45 films.
Peter Parnell's plays include QED, which starred Alan Alda both at the Mark Taper Forum and on Broadway at the Vivian Beaumont Theatre (Lincoln Center Theater Company). His two-part stage adaptation of John Irving's The Cider House Rules won the American Theatre Critics Association Award. His other plays have been produced by the Atlantic, the Public Theater, and Playwrights Horizons. For television, Parnell was a co-producer for The West Wing (two EMMY citations), and a producer for The Guardian, Inconceivable, and Six Degrees. Parnell serves as Vice President of the Dramatists Guild.
Michael Mayer won a Tony Award for his direction of Spring Awakening and most recently won the Drama Desk Award for directing American Idiot, which he also co-wrote with Green Day's Billie Joe Armstrong.  His  many Broadway credits include the Tony Award-winning musical Thoroughly Modern Millie,  the Tony Award-winning revival of A View from the Bridge, the Tony Award-winning play Side Man, Triumph of Love, You're A Good Man Charlie Brown, The Lion In Winter,  Uncle Vanya, Night Mother, After The Fall, and last season's Everyday Rapture.