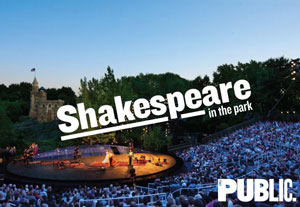 Summer in New York City — baseball, Coney Island, sidewalk dining, and, of course, Shakespeare in the Park, a New York institution since 1962.  Despite its fame and the number of acclaimed actors and actresses who have appeared in these free performances, including Patrick Stewart, Meryl Streep, Natalie Portman, Kevin Kline, Anne Hathaway and Al Pacino, there are many people who aren't aware that these performances are offered free of charge — though you'll probably have to take a day off from work in order to score tickets.
But why exactly are there free performances of Shakespeare in a city that's otherwise known for expensive theater tickets?  We have a man named Joseph Papp to thank for that.  Papp founded The Public Theater, an organization devoted to the promotion of not just Shakespeare in the Park but dozens of others of causes to help the growth of theater, particularly in New York.  Time magazine recently did a piece on the history of Shakespeare in the Park, including archive footage of Papp and new interviews with Oskar Eustis, the current Artistic Director of The Public Theater.
Check out the video below.  This year Shakespeare in the Park presents Measure for Measure and All's Well That Ends Well in repertory, playing on alternate nights through July 30.  For more information, visit the Shakespeare in the Park website.