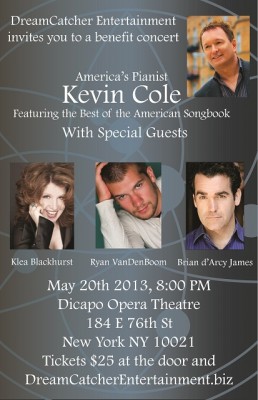 One thing you can always give Broadway performers is that they're almost always willing to support their fellow performers. 
May 20th will see a headline benefit performance in New York City by Kevin Cole, known as America's Pianist, who has played in symphonies across the country and in solo concerts and is well-known for his renditions of the Gershwin songbook.  He will be joined by three special guests from Broadway: Brian d'Arcy James (Shrek; Next to Normal; TV's Smash), Klea Blackhurst (Everything the Traffic Will Allow), and Ryan VanDenBoom (Annie).
Proceeds from the semi-formal event will go to support DreamCatcher Entertainment, an independent theatre and film company that is celebrating its 5th Anniversary and fundraising for its upcoming season.  DreamCatcher Entertainment is a multi-media production company that has produced plays, a monthly play reading series, short films, and is also launching a music series this month.  For more information visit the company's website.
The benefit event will be held on Monday, May 20th, at 8:00 PM at the Dicapo Opera Theatre (184 E 76th Street).  Tickets are $25, available at the door or at DreamCatcher's website.  A second benefit event, a casual showcase featuring company members which is also at the Dicapo Opera Theatre, will be held on Thursday, May 23rd at 8:00 PM.