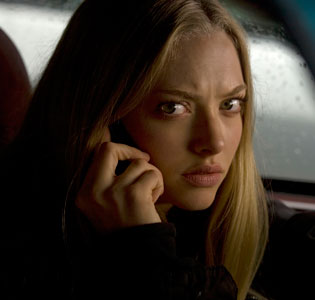 Amanda Seyfried has established herself as one of Hollywood's most captivating young leading actresses.
Seyfried is best known for her starring role in the Universal Pictures hit film Mamma Mia! Seyfried highlighted her vocal skills as 'Sophie' the daughter of 'Donna' (Meryl Streep). The film, directed by Phyllida Lloyd, was released in July 2008 and has grossed more than $600 million internationally.
Seyfried most recently starred opposite Justin Timberlake in New Regency's sci-fi action thriller, In Time, from writer-director Andrew Niccol. The film, distributed by Twentieth Century Fox, revolves around a society in which aging stops at the age of 25 and where time has become the currency. The film was released on October 28, 2011.
Seyfried will next be seen in Lionsgate's The Big Wedding, where she stars opposite Robert De Niro, Diane Keaton and Katherine Heigl. The movie is directed by Justin Zackham (The Bucket List). The movie will be released on October 19, 2012.
Seyfried is currently in production on Millennium Films' Lovelace, a drama directed by Rob Epstein and Jeffrey Friedman. The film tells the story of Linda Lovelace (Seyfried), the world's first adult film star, who is abused by the industry and by her coercive husband, before fighting back and taking control of her life. Millennium Films will release the film in 2012.
Seyfried will soon begin production on Universal's film adaptation of Les Miserables, in which she will play Cosette, and will star opposite Anne Hathaway and Hugh Jackman. Tom Hooper will direct and the film will be released on December 7, 2012.
In 2011, Seyfried starred in Warner Bros' Red Riding Hood. Produced by Leonardo DiCaprio's Appian Way, the film is directed by Catherine Hardwicke. In 2010, Seyfried starred opposite Channing Tatum in the box office hit, Dear John, the adaptation of the Nicolas Sparks ("The Notebook") bestseller. In the film, Seyfried plays a young woman who meets and falls in love with a soldier (Channing Tatum) while he's on leave. Lasse Hallstrom ("The Cider House Rules", "Chocolat") directed from a script by Jamie Linden. Dear John grossed more than $100 million worldwide and is the highest opening film to date for Sony Screen Gems.
In 2010, Seyfried also starred in the Summit film, Letters to Juliet, in which she plays a young American who travels to Verona, Italy to answer letters people write to the fictional Juliet of "Romeo and Juliet" fame. The film is directed by Gary Winick (Bride Wars, 13 Going On 30) and also stars Vanessa Redgrave, and Gael Garcia Bernal.
Also in 2010, Seyfried starred in Chloe, an Atom Egoyan-directed thriller where she shares the screen with Julianne Moore and Liam Neeson. Seyfried plays an escort ('Chloe') hired by a successful doctor (Moore) to test her husband's fidelity.
In 2009, Seyfried starred in the Fox Film Jennifer's Body. In the film written by Diablo Cody ("Juno"), Seyfried plays 'Needy,' the best friend of 'Jennifer,' (Megan Fox) a possessed cheerleader who begins killing boys in a small town.
On the TV front, Seyfried received critical praise for her starring role in HBO's Golden Globe nominated drama, "Big Love." In it she played 'Sarah Henrickson,' a teenage girl who struggles with life in a polygamist family, headed by 'Bill' (Bill Paxton) and 'Barb Hendrickson' (Jeanne Tripplehorn).
A Pennsylvania native, Seyfried started her career by modeling at the age of 11. She soon turned to acting and landed her first contract role in 2000 as Lucy Montgomery on "As the World Turns." In 2002, "All My Children" signed her to the contract role of Joni Stafford.
Her big break, though, was in 2004's Mean Girls, the Lorne Michaels/Tina Fey/Paramount production where she co-starred with Lindsay Lohan and Rachel McAdams. Together they won the Best On-Screen Team Award at the MTV Movie Awards.
In 2005, Seyfried starred in the Sundance Film Festival favorite Nine Lives. Written and directed by Rodrigo Garcia, the film also starred Sissy Spacek, Glenn Close, Holly Hunter, Robin Wright Penn and Dakota Fanning.
In 2006, she appeared in Alpha Dog, directed by Nick Cassavetes, and starring Justin Timberlake, Sharon Stone, Emile Hirsch, and Bruce Willis. She followed this with American Gun, starring Donald Sutherland, Forest Whitaker, and Marcia Gay Harden.
Amanda currently divides her time between Los Angeles and New York.
Biography/Filmography courtesy of Summit Entertainment and Gone, in theaters February 24th, 2012.