Here's another panel I missed at Comic-Con: Two of the greatest directors alive, Steven Spielberg and Peter Jackson, came to Hall H to talking about their new project, Tin Tin.
Just listening to the following clips, I would have loved to have been there.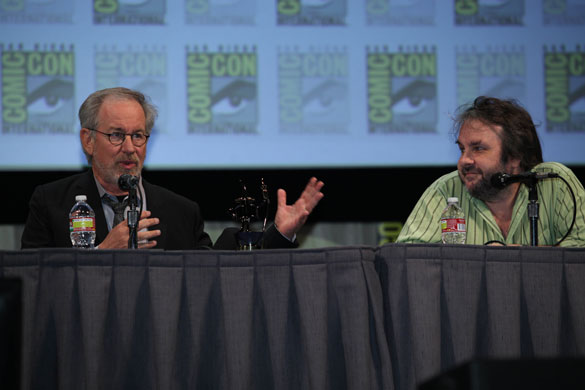 Some of the highlights of the videos:
Spielberg: "I think that is the secret to great acting. You have to bring your imagination to the party. You gotta have a great imagination. You've got to bring it to the day when you're working."
Spielberg again: "Tin Tin does not take no for an answer and that has been the story of my life."
They also talk about the actors working in motion-capture, how they came to the project and tons more.
Check them out below!
Videos courtesy of Paramount Pictures
Here's highlights of the panel inside of Hall H

Spielberg and Jackson at the Comic-Con Press Conference

Spielberg, Jackson and Andy Serkis backstage