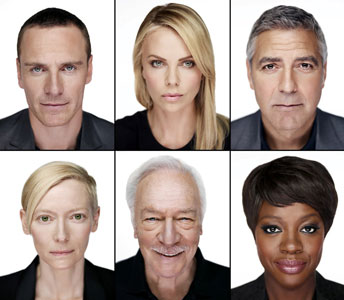 Well, Newsweek got 3 out of 6 right.
In anticipation of today's Academy Award nominations, the magazine gathered George Clooney, Charlize Theron, Michael Fassbender, Viola Davis, Christopher Plummer and Tilda Swinton– all possible contenders – together for a frank and at times hilarious conversation.
As you know, Clooney, Davis and Plummer got the good news today but that doesn't take away from the performances Fassbender, Theron and Swinton did this year.
There are 4 videos and they're all worth watching. You can see Fassbender do his Quentin Tarantino impression, Theron do a South African accent and Clooney will make you laugh.
Best line is from Viola Davis though: "Acting is about problem solving. I don't have a method. I don't have a way of working. It changes with every project."
Check it out below!