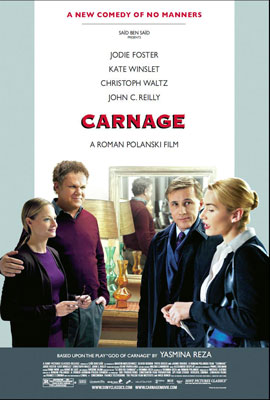 Carnage comes out on December 16th and Sony has just released the poster for the Roman Polanski directed film.
And it looks awful.
It looks like I photoshopped it with a gun to my head. This may be the worst poster for a film I've seen in ages. Wow. It actually looks almost as bad as the trailer and clips I've seen.
The film stars Jodie Foster, Kate Winslet, Christoph Waltz and John C Reilly and it's based on the play, God of Carnage, by Yasmina Reza.
I still have no idea why they didn't go with the cast of the Broadway production.