I saw 50/50 the other night at the opening of the San Diego Film Festival and after the huge applause, I started to notice more than several people wiping tears from their eyes.
50/50 stars Seth Rogen, Joseph Gorden-Levitt and Anna Kendrick and, as I'm sure you know by now, is based on the real-life friendship of Rogen and writer Will Reiser. It's incredibly funny, sad and uplifting and Gordon-Levitt is fantastic – especially after only having a little under 2 weeks to prepare.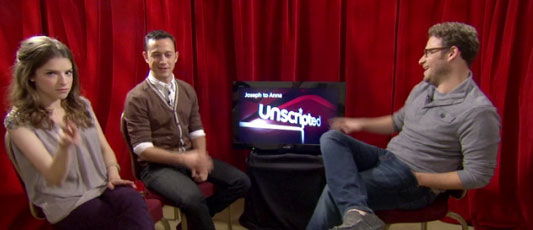 Here are 3 videos: The first is the Rogen, Gordon-Levitt, Kendrick, writer Reiser and Bryce Dallas Howard discussing working together. The last 2 is from Moviefone, where Kendrick, Gordon-Levitt and Rogen ask each other questions. Check it out – you'll definitely chuckle.