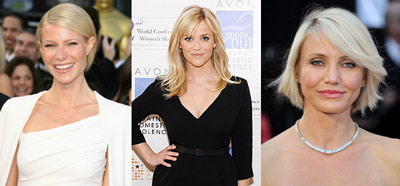 Gwyneth Paltrow, Reese Witherspoon, Cameron Diaz and Ryan Murphy may not know what it's like to be down-on-their-luck has-beens, but according to a Deadline.com story, that isn't stopping them from making a movie about them.
Sony has reportedly picked up musical comedy One Hit Wonders, which will feature the three actresses as singers who had one hit each in the '90s and are teaming up to come back bigger than ever.
Murphy will direct the film, which sprang from a recent dinner he had with the three actresses. The creator of TV's Glee and American Horror Story directed 2011 box-office smash Eat, Pray, Love. and is also attached to a big-screen adaptation of Broadway hit The Normal Heart. 
Also involved with One Hit Wonders are Beyoncé, who will star in the flick despite her camp initially denying participation, and Saturday Night Live funny-man Andy Samberg, who is expected to write the movie's music with his comedy troupe, The Lonely Island.