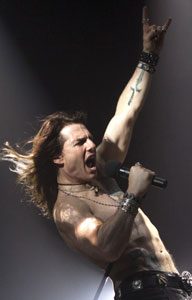 People all over Twitter (and beyond) are slamming Rock of Ages for how cheesy it looks and how it doesn't represent the 80's they know and love.
I say screw them.
I'm looking forward to this film and I'm hoping that it does really well. It's got a great cast in Alec Baldwin, Paul Giamatti, Catherine Zeta-Jones, Russel Brand, Malin Ackerman, Bryan Cranston and Tom Cruise and some great classic songs. Yeah, it's not going to win any awards but I'm betting it'll be a fun time. 
Anyway, courtesy of People, you can hear Cruise singing the chorus to the Def Leppard song, "Pour Some Sugar On Me" from the soundtrack.
Listen to it below!