You're going to see The Muppets this weekend, right?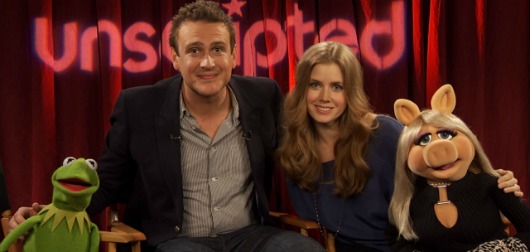 The movie had me smiling from start to finish. That's not to say that I didn't have some problems with it, mainly: Not Enough Miss Piggy! Other than that one complaint, it's great to have the fuzzy, felt gang back. They sing, they dance and Fozzie wears fart shoes. What more could you ask for?
Courtesy of Moviefone, we have the stars of the new movie, Kermit, Miss Piggy, Jason Segel and Amy Adams answering questions from fans and themselves. Some of the questions and answers take on an odd sexual undertone and while funny, I can't vision my beloved Piggy that way. Just can't do it.
In the videos, Miss Piggy does her dead-on impressions of Fozzie and Animal, Jason and Kermit talk about a wild night in Mexico and Amy and Piggy talk who their favorite movie star is.
Check them out below!