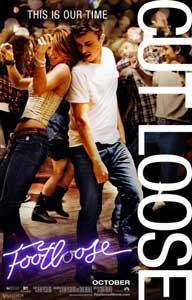 I'm thinking Paramount's remake of Footloose maybe really good. Why else would they have tons of free screenings 2-weeks ahead of it's release date?
On Friday, September 30, 2011 at 6 p.m. PT, 7 p.m. CT and 8 p.m. ET, Paramount Pictures will host exclusive advance screenings that they are calling 'Footloose Friday' in 26 cities across the US and Canada.
I really like director Craig Brewer. He wrote and directed Hustle and Flow and also directed the pilot to one of my favorites TV series ever, the gone-too-soon Terriers.
Go to FootlooseFriday.com and see if your city is one of the listed!