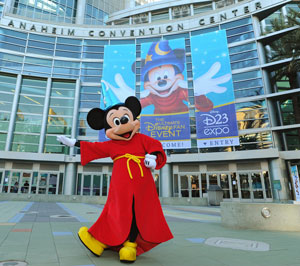 This past weekend I went to D23, the fan expo that Disney held at Disneyland. While I'd like to say it was awesome, it was just… ok.
I'm a big fan of Disney and their movies but I think for this, you had to be a Super-Fan. There wasn't a lot to do beyond the panels and the expo floor was really small, with neither Marvel or Pixar being represented. 
The one great thing about the weekend was the Disney/Pixar and Disney/Marvel movie presentations. It was a long panel, clocking in at almost 3 hours but the time flew by.
The only thing I didn't like was that the presentation was scripted. From the intro's to the fake banter and questions, there were no real spontaneous moments in the whole thing. It felt rehearsed and I wish it weren't.
Enough moaning!
I've broken down the Disney/Pixar and Disney/Marvel panels into 2 posts. Most of the time, I'll just write down what I thought and post the various quotes I jotted down.
First up: Disney and Pixar!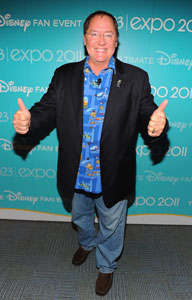 The supremely talented John Lasseter comes out in a sports coat and trademark Hawaiian shirt – with Cars 2 characters in place of flowers.
Lasseter: On how they choose directors – "We want these stories to come from their hearts."
 Lasseter: "Our Studio isn't a building. Our studio is the people"
 Lasseter: They "always record dialogue before the animation. We get inspiration from the actors."
Lasseter introduces their upcoming project that is set in the Cars world, Planes. Voicing the main character is Jon Cryer who comes out from behind the curtain.
Jon Cryer: "If you ever get a chance to do a voice character in a Disney movie, do it. Cause it's awesome!"
Lasseter: The actors "do 12 sessions over a 2 year period."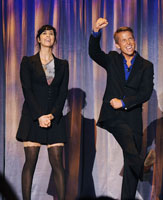 Up next, Wreck-it Ralph about what happens in the world of a video game store when the lights are shut off the the store is closed. Voiced by John C. Reilly, Jack McBrayer, Jane Lynch and Sarah Silverman, they showed us the first 4 1/2 minutes and while it wasn't finished, this looks really good. 
Then Jack and Sarah step out.
Sarah: "I've always wanted to come to Anaheim but not go to Disneyland!" 
Sarah:  "I have a real love/hate relationship with Disney/Pixar. I hate that they make me feel. Then, I saw it and I'm glad that they made me …feel."
Now, onto the next Pixar film which you may have heard of, Brave. Imagine a Pixar fairy tale, as Lasseter described it. It features their first female lead in Merida, a Scottish princess who defies her parents by pursuing an interest in archery, but inadvertently jeopardizes her father's kingdom in the process. The voice cast include Kelly MacDonald, Billy Connolly, Emma Thompson, Julie Walters, Craig Ferguson, Robbie Coltrane and Kevin McKidd.
On to Monsters University, the prequel to Monsters, Inc. Billy Crystal and John Goodman are back in the roles that turned them into a one-eyed and blue haired monster.
Lassiter: "When we do a sequel, we make sure we have a story that is as good or better than the original."
Crystal and Goodman are shown on a video giving an intro when suddenly, Crystal steps out from behind the curtain. "Hello, nerds," he says to a huge applause. This was, so far, the only spontaneous thing all day.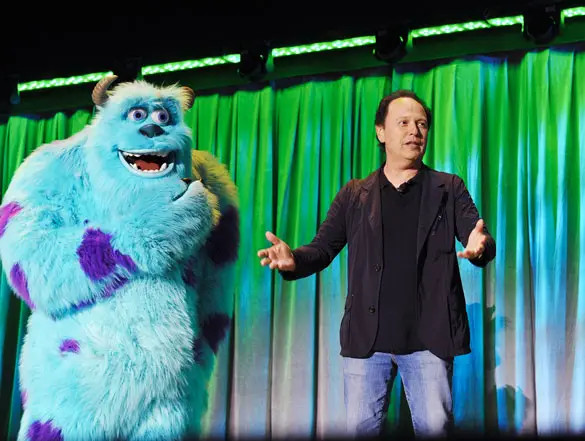 Lasseter comes back out and makes an announcement about 2 new films on the Pixar horizon. Both untitled, they are calling them: The Untitled Pixar Movie About Dinosaurs and The Untitled Pixar Movie That Takes You Inside Your Mind. No real details on both but they've been in development for years now.
And finally, to celebrate the 25th year of Pixar, they gave everyone cupcakes. Yes, they passed out 5,000 cupcakes. Some people saved theirs but I didn't have that willpower. It took me about 7 seconds to shove it down my throat. Thankfully it was still dark in the arena because I must have looked like a mental patient.
And by the way, it was good.