In the previous post, I wrote about what happened on the Disney and Pixar animation panel and while I loved what they presented, I was eagerly awaiting the moment they unveiled the first look at next summers film, The Avengers.
But, I'd have to wait because first up was John Carter. I thought this was going to be a film about one of my cousins but as usual, I was horribly mistaken. John Carter is about a Civil War vet who is transplanted to Mars, where he discovers a planet whose main inhabitants are 12-foot tall green barbarians. When he becomes a prisoner of these creatures, he escapes, only to encounter a Princess who is in desperate need of a savior.
The director, Andrew Stanton comes out to introduce the film's cast and clips. When talking about how he chose the actors, he said "talent, eyes, voice is how Pixar chooses their voice actors" and that's how he chose his actors. 
Stanton: "After many casting calls, I struck gold in Taylor Kitsch."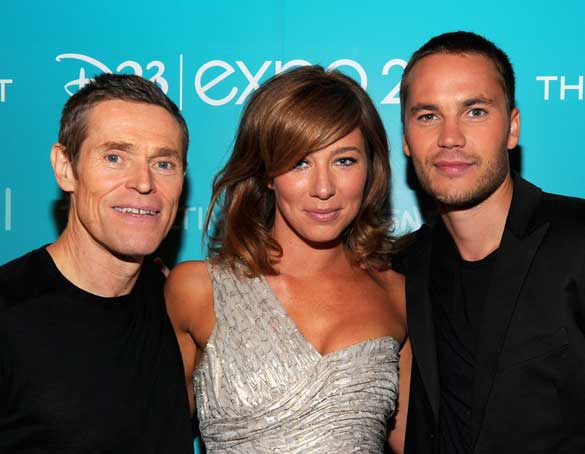 Then, Kitsch, Lynn Collins and Willem Dafoe make an appearance from behind the massive curtain.
Dafoe: "I had to perform on 3 foot stilts which is kind of difficult on desert terrain."
After watching the trailer, I thought the film looked bland but seeing the clips makes me much more interested.
Tim Burton's Frankenweenie: The story of Victor who's pet dog Sparky (who stars in Victor's home-made monster movies) is hit by a car. Victor then decides to bring him back to life the only way he knows how. But when the bolt-necked "monster" wreaks havoc and terror in the hearts of Victor's neighbors, he has to convince them (and his parents) that despite his appearance, Sparky's still the good loyal friend he's always been.
They showed us a short featurette and yes, it definitely looks like a Tim Burton film. It takes place in the town of New Holland which is kind of Transylvania meets Burbank they said.
The Odd Life of Timothy Green: Jennifer Garner is introduced and talks about the film where a childless couple bury a box in their backyard that contains all of their wishes for an child. Soon, a child is born, though Timothy Green is not all that he appears. 
She was loved by the crowd with constant shouts of, "We love you!" echoing throughout the arena.
It's not coming out till next year but I think this might be really good.
Oz, The Great and Powerful: No clips or snippets for this Sam Raimi directed film about which is a prequel to The Wizard of Oz. Told from the point of view of the Wizard, it tells how the Wizard arrived in Oz and how he became the ruler of the storied place.
They did show a featurette of some backstage goings-on and a few short interviews of the cast James Franco, Mila Kunis, Zach Braff and Michelle Williams.
The Muppets: The arena goes dark and out come Jason Segal and Kermit. They talk a bit about the film and the fact that none of the upcoming clips feature Miss Piggy. With that, the hottest pig around zooms out on a Harley. She hasnt aged a bit, I'm happy to say.
A few clips are shown and I think they nailed it; the bits were smart and funny. The basic story is that with the help of Segal and Amy Adams, the gang must reunite to save their old theater from destruction.
 Chimpanzee: This is another of Disney's nature documentaries. I'm a sucker for these films and this one is right up my alley. It's about a family of chimps living in the Ivory Coast and Ugandan rain forests. When a baby chimp loses his family, he is adopted by an older chimp. 
The Avengers: Finally, we have the film I've been waiting for. Next summer's most anticipated film – at least in my eyes.
Marvel's head honcho Kevin Feige is greeted to warm applause to say how excited to show the crowd the first look. And he does.
What I saw was awesome. Captain America and Thor fighting. Loki is the big bad. Tony Stark being Tony Stark. Hawkeye and the Black Widow blowing stuff up. And a final shot of the Hulk doing what he does best: getting pissed.
Best line of the trailer?
Loki: "I have an army."
Tony Stark: "We have a Hulk!"
Damn right.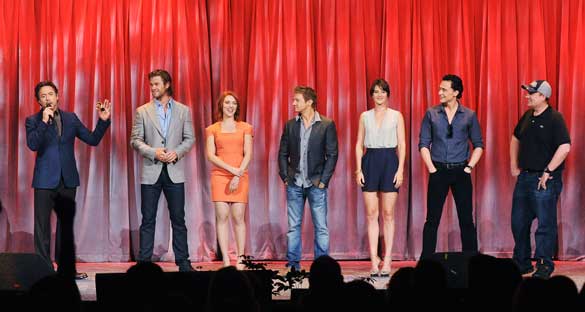 Then, Feige opens the curtain and brings out Tom Hiddleston, Cobie Smulders, Jeremy Renner, Scarlett Johansson, Chris Hemsworth and Robert Downey Jr.
The place goes wild! Downey takes the mike and say's, "Want to see it again?" The arena erupts! Of course we do.
And they all walk backstage. That was it. None of them said a word.
But you know what? I didn't care. I was completely pleased with all the clips they showed and what I saw of The Avengers absolutely did not disappoint.