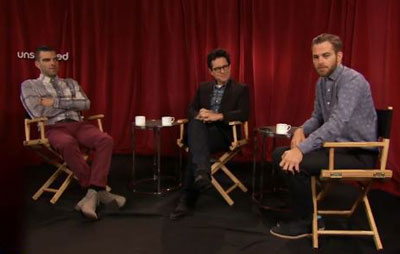 Chris Pine, Zachary Quinto and director J.J. Abrams got together at the offices of Moviefone to answer some mostly ridiculous fan questions about Star Trek Into Darkness. 
Quinto was asked a weird question about if he's worn the Spock ears naked, Pine is asked what the toughest decision he's ever had to make in his career (this was a good one actually and he gave a good, thoughtful answer), and which ship would win in a fight, the Enterprise or Millennium Falcon.
Check out the videos below!