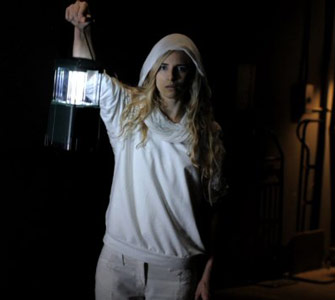 Last week, we posted a preview of the first 2-minutes of Fox Searchlight's Sound of My Voice with Brit Marling. 
Now, they've posted the first 12 minutes, or Chapter 1 as they are calling it. You can watch it below or go to the films website and watch it in full screen:
Also, the filmmakers are saying to pay special attention when watching the clip. It has "baked in" alternative content via interactive "hotspots" and this hints at story elements beyond the first chapter.
Synopsis: Peter (Christopher Denham) and Lorna (Nicole Vicius), a couple and documentary filmmaking team, infiltrate a mysterious group led by an enigmatic young woman named Maggie (Brit Marling). Intent on exposing her as a charlatan and freeing the followers from her grip, Peter and Lorna start to question their objective and each other as they unravel the secrets of Maggie's underworld.
Directed by: Zal Batmanglij
Written by:  Zal Batmanglij and Brit Marling
Starring: Brit Marling, Christopher Denham and Nicole Vicius
In theaters: April 27, 2012