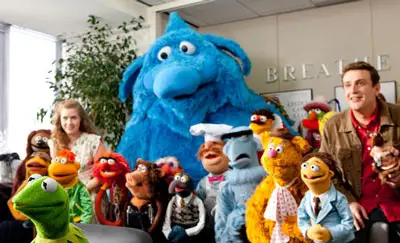 I've loved all of the parody trailers that The Muppets have put out for their upcoming film and can't wait for it to come out.
I've watched all of the films and old TV shows and am so looking forward to this. I hope the film does well because we all need a healthy does of brightly colored felt in our lives, don't we?
Below are 8 clips for the upcoming film that stars Jason Segel, Amy Adams, Kermit, Miss Piggy, Fozzy Bear and the rest of the gang. 
Look for it on November 23rd.
Gary (Jason Segel) surprises his buddy Walter with a ticket to Los Angeles
Miss Piggy throws down
Walter and company go to Pink's hotdogs
Gary (Jason Segel) and Walter sing and dance
Gary (Jason Segel) and company gather the whole muppet crew
Fonzie Bear and company try to visit Miss Piggy
Gary (Jason Segel) and Walter realizes that the fence is electric
Kermit needs a celebrity in 12 hours