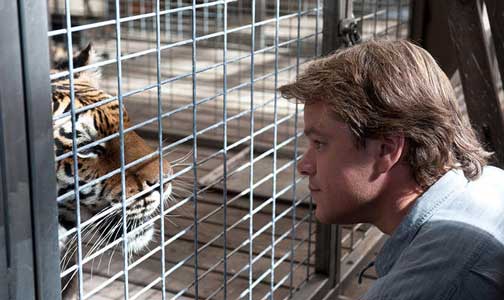 If you missed out on We Bought a Zoo's sneak preview over Thanksgiving weekend, you're in luck because 20th Century Fox is having another one tomorrow – Saturday, December 10th.
But before that, check out the 7 clips below.
Directed by Cameron Crowe and starring Matt Damon, Thomas Haden Church, Scarlett Johansson, Patrick Fugit and Elle Fanning, the film tells the true story of a single dad who decides his family needs a fresh start. So, he and his two children move to the most unlikely of places: a zoo. With the help of an eclectic staff, and with many misadventures along the way, the family works to return the dilapidated zoo to its former wonder and glory.
The film opens on December 23rd. 
Benjamin (Matt Damon) is interested in some property
Dylan (Colin Ford) is not happy about moving
Benjamin (Matt Damon) meets Kelly (Scarlett Johansson) and the rest of the zookeepers.
Ben (Matt Damon) and Duncan (Thomas Haden Church) talk about an authentic America experience
Benjamin (Matt Damon) gets freaked out by a porcupine
Benjamin (Matt Damon) and Dylan (Colin Ford) talk
Kelly (Scarlett Johansson) asks Benjamin (Matt Damon) a question